Japanese designer Kenzo trades art for new life
By Elizabeth Pineau
PARIS (Reuters) - Vowing to change his life, Japanese designer Kenzo is auctioning off a treasure trove of Asian art, furniture and antique kimonos that adorn his luxury Paris home.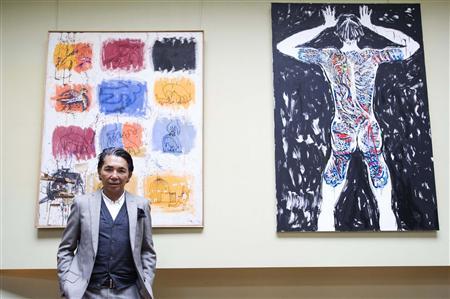 Kenzo, whose full name is Kenzo Takada, has already sold the Japanese-style villa in eastern Paris, complete with paper screens, a swimming pool, and a traditional garden featuring an ornamental pond with carp.
Last month, the sale of late designer Yves Saint Laurent's collection broke several records and Sotheby's has also auctioned the late Gianni Versace's collection, but Kenzo said he was focusing on life before death.
"Today I want to turn a page and live differently, more free, lighter," the 70-year-old told reporters at the villa, surrounded by trees and stones imported from Japan.
The collection is expected to fetch between 1.5 million euros to 2 million euros ($2.04 million to $2.73 million) at auction, scheduled for June 16 and 17.
Highlights are a Chinese wooden horse dating from the Han era, around 100 AD, estimated at 100,000 euros, and two Chinese wooden funeral figurines dating from 500-300 BC, which are valued at 30,000 to 60,000 euros ($40,000-$80,000) each.
A diplomatic tussle broke out between China and France over two historic Chinese bronze sculptures looted in the 19th century and sold as part of the Yves Saint Laurent collection.
A Chinese buyer snapped up the pieces, but then refused to pay for them.
Kenzo's sale is less likely to attract controversy. He had the 1,100 square-meter villa built 20 years ago, as his empire of colorful, printed clothes and perfumes expanded along with his taste for lavish parties.
Luxury conglomerate LVMH bought the Kenzo brand in 1993.
Having also sold the villa to French buyers, Kenzo is planning to move into his new apartment overlooking the Seine -- still generous at 250 square meters.
"At the end of the 1980s. I wanted a Japanese house with a garden in the middle of Paris. My dream came true," he said as he showed reporters his old home.
An Asian art expert looking at a small Korean table and a bronze sculpture of a rat munching a chestnut, described the collection as an "accumulation of beautiful little things."
Prices for the less rare objects from Asia, Africa and North Africa will start at a few hundred euros.
Together with the Yves Saint Laurent and Gianni Versace events, Kenzo's decision to sell up marks the end of an era for the star couturiers -- as illustrated by a photo on his desk that shows the Japanese designer, tanned and smiling, next to Saint Laurent at the height of their careers.
(Writing by Sophie Hardach, editing by Paul Casciato)
© Thomson Reuters 2023 All rights reserved.