Jackson brothers launch their clothing label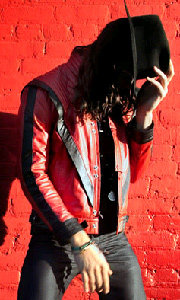 J5 Collection
Michael Jackson's brothers, former members of the Jackson 5: Jackie, Tito, Jermaine, Marlon and Randy Jackson launch the J5 Collection; the first ready-to-wear brand that pays homage to the Jackson 5's career.
A collection that will be in stores from February 2011 includes t-shirts (30 to 60 dollars) and jackets for men and women all using imagery from the band's career starting from the first news articles that appeared in the 60s to the afro looks of the 70s. It includes a replica of Michael Jackson's famous red jacket from the Thriller video (costs around $600).
The J5 Collection is licensed with Steeve Bohbot, owner of the showroom Connected International Sales in Los Angeles, California. The label will be available in retailers like Urban Outfitters, Pac Sun, Kitson Men and via the buying website J5collection.com.
This new line of clothing should appeal to Michael Jackson fans and irritate those who accuse the Jackson family from capitalising on the death of the king of pop.
Copyright © 2023 FashionNetwork.com All rights reserved.