Italy jewellery's glitter lures foreign investors
Feb 2 - Cash-rich investors from emerging markets could follow U.S. billionaire Warren Buffett in buying top quality but crisis-hit Italian jewellers, attracted by good bargains and the export appeal of "Made in Italy" brands.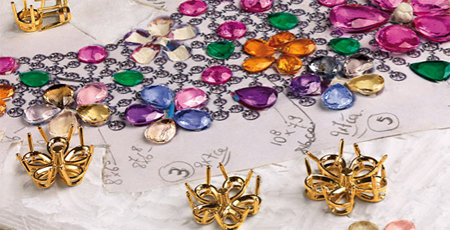 Making process of a necklace by Italian jeweller Bulgari
Expectations for a shopping spree have increased after U.S. jewellery maker and distributor Richline Group, a unit of Buffett's Berkshire Hathaway, said in January it planned to buy Italian gold jeweller Rosato to expand in Europe.
India's biggest jewellery retailer, Gitanjali Gems Ltd, owns two Italian jewellers and is buying diamond specialist Stefan Hafner, IO Si, Porrati and Nouvelle Bague. "I expect that emerging markets investors buying luxury goods brands in Europe will be a continuing trend," Bernstein analyst Luca Solca said.
"They have cash, they know in-depth their local markets where the newly acquired brands can grow and thrive, they are attracted by the European luxury heritage and flair," he said.

UNIVERSAL APPEAL

Italy is the world's biggest jewellery exporter and a leader in design, but its market share has shrunk since the early 2000s as rivals from lower-cost India, China and Turkey advanced. Lately the global economic crisis dealt the sector a heavy blow.
Jewellery groups from emerging markets would boost revenues by adding top quality Italian brands to their portfolios to win more consumers in traditional markets and expand in new ones.
"Italian jewellery has a universal appeal ... it is two to three years ahead of the market ... Our main aim is with the 'Made in Italy' products to catch the markets in Saudi Arabia, Russia, Japan and America," Gitanjali Managing Director Mehul Choksi told Reuters.
Italian jewellers are likely to draw investors from India, China, Russia and Brazil with long-term business strategies rather than private equity funds and other financial investors looking for quick and high returns, industry experts said.
The Italian jewellery sector is made up of about 10,000 companies, mostly small and family-owned, meaning a wide choice of bargains for investors. Only luxury goods major Bulgari SpA and upscale jeweller Damiani SpA are listed.
Gitanjali, with revenue of $1.55 billion in 2010, plans to spend about $21 million on the four brands it is buying in Italy. It aims to add between $100 million and $150 million to its revenue in 2013 from its Italian assets.
"If they (investors) see a strategic logic, it makes no difference for them to pay 6 or 10 times EBITDA (earnings before interest, taxes, depreciation and amortisation) for companies with a very small EBITDA," said Stefano Scarpis, chairman of Italian private equity group Alto Partners.
Big names such as Bulgari said they did not fear an influx of foreign investors looking to buy small jewellers.
"Our most aggressive competitors are big luxury brands venturing into jewellery rather than small companies bought by foreign industrial investors," Bulgari Chief Executive Francesco Trapani told Reuters.

(Editing by David Holmes)
© Thomson Reuters 2023 All rights reserved.