Italy fashion turnover seen falling again in 2009
MILAN (Reuters Life!) - Italy's fashion sector turnover is seen falling again this year as the economic crisis saps demand for designer clothes and accessories.

Italy's National Chamber of Fashion forecast on Monday 15 June turnover was seen down 6.5 percent to 62.176 billion euros ($86.31 billion) in 2009, but could fall more.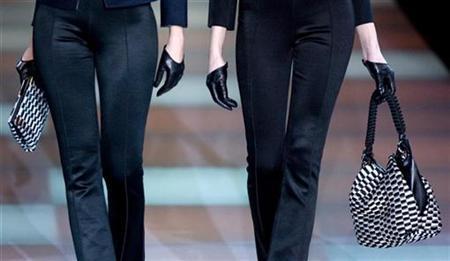 "This seems optimistic," the chamber's chairman, Mario Boselli, told a news conference ahead of Milan's menswear fashion week, which runs June 20-23.
The chamber said 2009 had started "in the worst way" and a 3 percent fall in fashion turnover was expected for the second half of the year.
Last year, turnover for Italy's fashion industry, known for names such as Giorgio Armani and Prada, fell 4 percent to 66.498 billion euros.
Luxury brands have not been spared by the global economic turmoil and the sector has been hit by restrained spending even among the super-rich.
Large players are seen better able to weather the storm and observers see smaller and family-run companies being the hardest hit.
Italy's fashion industry earlier this year warned its members risked "falling to pieces" as they feel the strains of the economic crisis and called for government help.
($1=.7203 Euro)
© Thomson Reuters 2023 All rights reserved.