Italy: earthquake brings Carpi textile district to its knees
The earthquake the struck last Tuesday in Emilia Romagna in Italy's north central region, home to several industrial districts including that of Carpi, which specializes in knitwear, has left 17 people dead and has had extensive repercussions on the local economy. The textile and clothing sector was particularly hard hit, especially in Carpi, located not far from Modena and home to many Made in Italy brands, including Twin-Set, Liu Jo, Denny Rose, Gaudi, Champion and Blumarine . Like many others, Blumarine, which owns the Blumarine and Blugirl brands, closed its doors for two days.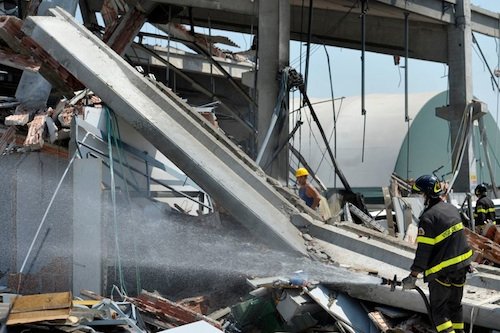 The debris of a factory. Photo Marco Vasin/AFP
"The false ceiling collapsed and there's quite a bit of damage," said a spokesman for the company. "This is a disaster because the company is in full production mode for the winter collections which must be delivered shortly and the pre-collections, which represent 70% of sales and whose marketing campaign unrolls in late June-July. The situation is all the more critical because this earthquake is the second to hit the area in ten days. Most personnel have been camping and sleeping in their cars since the first earthquake of May 20. Many are afraid to return to work," the spokesman said. At Liu-Jo, the enterprise was also evacuated, but just as a safety precaution. Built two years ago, the new headquarters of the fashion brand, that produces nothing there, suffered no damage and the facility should reopen tomorrow.
The Carpi district consists of a dense network of Medium Businesses that span the entire industry, from subcontractors to trademarks, which was able to reposition itself in recent years as medium high-end and high-end by investing in research and product distribution. Nearly 1,280 companies operate there, employing 14,000 people, according to 2010 data from the Observatoire du district de la mode de Carpi. Nearly 693 of them are registered trademarks and well-known brands that account for 54% of the total revenues. For the just the garment and textile sector, revenues amounted to 1.4 billion euros in 2010.
Copyright © 2023 FashionNetwork.com All rights reserved.