Italy 2010 gold jewellery sales down 15-17 %
Jan 15 - Gold jewellery sales in Italy, Europe's top market by consumption, fell 15-17 percent in volume in 2010 due to weak consumer demand and are expected to post a smaller fall in 2011, a senior industry official said.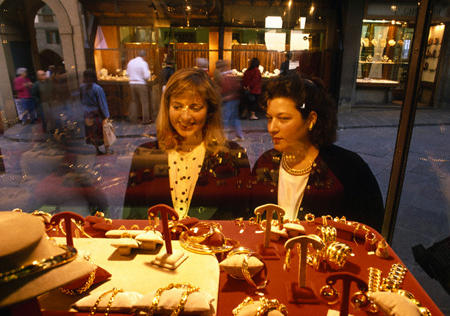 Women Looking at Jeweller's Shop Window in Florence
"The Italian internal market is still suffering from the (global economic) crisis," Daniela Invernizzi, the Italian representative of the industry-sponsored World Gold Council told Reuters in an interview at an international jewellery fair.
"I think we will close the year 2010 with a 15-17 percent fall on the internal market in terms of tonnes ... and the fall will slow down in 2011," Invernizzi said on Saturday.
Gold jewellery sales -- a key driver on gold markets -- on the Italian market fell 17.6 percent to 16.4 tonnes in the first nine months of 2010. In 2009, gold jewellery sales in Italy fell nearly 20 percent to about 41 tonnes, hit by the economic crisis.
Reporting by Svetlana Kovalyova, editing by Jane Baird
© Thomson Reuters 2023 All rights reserved.