Italian menswear gets young, bold and beautiful
MILAN - Designers shrugged off the global economic slump at Milan's menswear fashion week, opting for bold, impeccable suits to woo demanding buyers keen on wearing something more than once.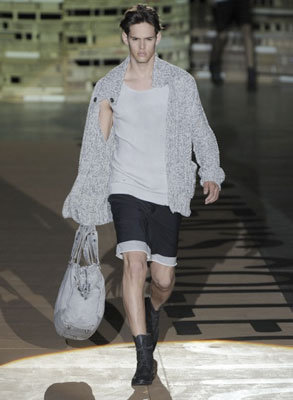 Photo : Pixelformula
Italian menswear fashion has not been immune to a downturn that has eroded demand for luxury goods, with sales of neckties especially hard hit.
Menswear sales fell 11.3 percent to 8 billion euros ($10.73 billion) in 2009, one of the worst annual performances ever for the sector. Sales of ties tumbled 23 percent, according to Sistema Moda Italia (SMI), the association that represents Italy's clothing and textiles industry.
However, many brands shown at Milan's spring-summer 2011 fashion week that ended on Tuesday took lively risks, seeking innovation while preserving Italian tailoring quality.
Armani combined classic taste with unconventional details and added summery yellow touches to a classic beige palette.
With a glance back to the 1980s, Versace offered an optical collection, with fitted jackets, shortened sleeves and slim trousers rolled up at the ankle, all in clashing colors.
"Even the wealthiest clients want a justification to buy. They tell us, 'Our wardrobes are full. Show us what we don't have,'" Spain-based buyer Martin Kucera told Reuters.
"The times when people bought clothes for just one night are gone. They want something they can use again," he said.
Costume National took Italian tailoring to the extreme with jackets entirely laser cut and thermo welded, without seams.
Youthful energy emanated from Prada's colorful collection, where shirts peered out of jackets and there were abundant shorts alongside slim trousers.
The catwalk optimism reflected hopes of economic recovery.
At Ferragamo, where impeccably dressed men wore a look for both night and day, Chief Executive Michele Norsa said some markets were already back at pre-crisis levels and opportunities for growth were emerging in Latin America, Indonesia and Turkey.
"Things are going better, also in Europe," Norsa said, adding that the group's sales now had double digit growth.
Oversized bags were omnipresent, for example at Gucci and Cavalli, confirming a renewed interest in men's accessories.
Shoes were jaunty and bold at Bottega Veneta, which also announced its first watch, produced in collaboration with Sowing Group, owner of renowned Swiss watchmaker Girard-Perregaux.
Gucci designer Frida Giannini created a "gypsy deluxe" style, at once elegant and eccentric, while jackets lost their sleeves and leggings surfaced under trousers at Emporio Armani.
Glitz replaced gloom on the red carpet, with Hollywood stars like Morgan Freeman and Matthew McConaughey coming to celebrate the 20th anniversary of Dolce & Gabbana men's line. Movie star Clive Owen was chosen by Bulgari for its "Man" perfume.
(Editing by Mark Heinrich)
© Thomson Reuters 2023 All rights reserved.