Israel's H1 diamond exports, imports surge
TEL AVIV, July 7 (Reuters) - Israeli exports and imports of polished and rough diamonds jumped an average of 104 percent in the first half of 2010, according to figures from the Industry and Trade Ministry published on Wednesday.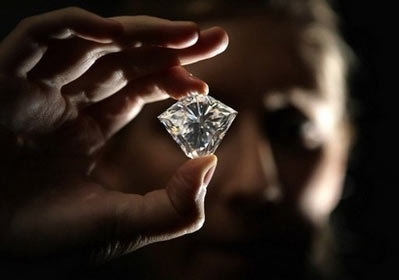 The biggest colourless diamond - Photo : Leon Neal/AFP
The recovery in the industry is due to an improving economy in various parts of the world and a global upturn in demand for diamonds, said Eli Avidar, the managing director of the Israel Diamond Institute, predicting growth again next year.
Israel is seeing a major rise in demand from Asia, especially from Hong Kong, China and India, where economic growth remains high, Avidar added.
"The uniqueness of the Israeli diamond industry is that it is the only major diamond centre that didn't receive government aid during the economic crisis, which made Israeli companies learn to flex their own muscles," he said.
"Now that there is a renewal of demand they are enjoying the fruits of their actions."
Avidar noted, however, that the figures are still 25 percent below the industry's performance in the second quarter of 2008, before the global economic crisis had fully unfolded.
"We expect that in the first quarter of 2011 we will see exponential growth," he said.
Net polished diamond exports totalled $3.002 billion in the January to June period, up from $1.566 billion a year earlier.
Net rough diamond exports stood at $1.624 billion, compared with $796 million a year earlier.
Net rough diamond imports rose 113.3 percent to $1.817 billion while net polished diamond imports were $1.882 billion, an increase of 105.2 percent.
The ministry's diamond controller said the second quarter of 2010 showed a significant improvement over the first quarter.
The United States was Israel's primary polished diamond market, accounting for 52 percent of exports. Hong Kong was second with 25 percent, followed by Belgium with 7 percent.
Net polished exports to China jumped to $93 million from $33 million in the same period of 2009.
(Editing by Keiron Henderson)
© Thomson Reuters 2023 All rights reserved.