Ireland's Arnotts appoints new Chairman, senior positions reviewed

Mark Schwartz
Arnotts, leading Irish retail group, announces appointment of Mark J. Schwartz as Chairman of the Board. Resigning non-executives are replaced. All senior positions will now be reviewed.
The Board has named former CEO of Palladin Capital Group, Mark Schwartz as Chairman following the assumption of control of the Company earlier this week by Ulster Bank and Anglo Irish Bank.
He has extensive experience in the retail sector including former CEO positions at Gordon Brothers Group and Nine West Group.
Mr Richard Nesbitt who has been Chairman since 2002 will continue on the board in a non-executive capacity in recognition of the long-term contribution made by the Nesbitt family to establishing the Arnotts heritage and legacy.
Mr. Keith Edelman and Mr. Michael Nesbitt, the Non-Executive Directors of the board have resigned and will no longer be involved with the Company. They will be replaced by Tobais Nanda and Stephen Haughey.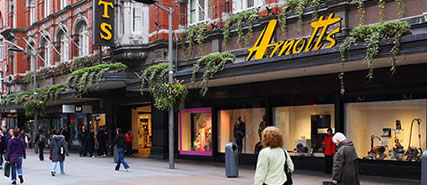 Arnotts Store, 12 Henry Street, Dublin, Ireland
Following the board changes, Mr Schwartz indicated that there will be a "full review of senior executive management to reflect the renewed focus on Arnotts trading operation."
He talks about strengthening the group to expand in the market, "Now that the banks are approving a renewed financial support, we can work on enhancing the shopping experience for our loyal customers."
1843 born Arnotts is the largest department store in Ireland with over 300,000 square feet of selling space.
By Rosie Hart
Copyright © 2023 FashionNetwork.com All rights reserved.