Iraqi designers are back in fashion
BAGHDAD, Dec 16, 2007 (AFP) - More than four years after their priceless garments were plundered in the looting that followed the US invasion, Iraq's premier dress designers are back in fashion -- of the ancient Mesopotamian variety.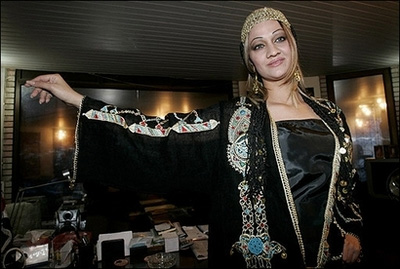 An Iraqi model displays a creation of the Iraqi House of Fashion in Baghdad
Photo : Sabah Arar/AFP
Now they are ready to display their latest works on the international stage. Perhaps New York, perhaps Paris. Anywhere but Baghdad.
"We are working like butterflies -- quietly," says Iraqi House of Fashions director general May Rammo. We don't want to attract attention. If you are working for the government you are open to being attacked."
Hidden away in a three-storey building in Baghdad that she would prefer was not identified, Rammo oversees a team of 307 designers, artists, embroiderers, dressmakers and models who are recreating dresses and costumes in styles dating back 5,000 years and more.
Artists copy images from ancient pottery and drawings, designers adapt them, experts source natural fabrics in local markets, embroiderers create the motifs, and dressmakers sew them onto dresses which the models then display.
Do not even ask the price of the exquisite hand-crafted garments bearing colourful motifs representing either the Sumerian period (5000-2330 BC), the Babylonian era (2330-1750) and the Assyrian epoch (1800-613) and on up until the start of the Islamic period in the 6th century AD.
"They're priceless. They're not for sale," says Rammo. "Some of them have taken a year to complete. How can you put a price on that? Many people have wanted to buy them but we're making these dresses to preserve our culture. They're just for the pleasure of seeing."
The robes, some of the type worn by the kings and queens of Mesopotamia -- as the land between two rivers, the Tigris and Euphrates, was known -- are made solely of materials that would have been available at the time.
"Only silks and cottons and wools. No synthetic fibres," says Rammo, a civil engineer turned artist/designer whose mobile phone rings incessantly while she sets about enthusiastically explaining the ethos of her enterprise.
Sponsored by Iraq's culture ministry, the Iraqi House of Fashions was established in 1970 with the aim of conserving ancient Iraqi culture.
For the next 33 years the team turned out hundreds and hundreds of dresses -- "perhaps even thousands," says Rammo's number two, Shireen Mohammed. The creations were displayed at "fashion shows" that more resembled theatre than modern-day catwalk extravaganzas.
"In the shows we'd start with the Sumerian fashions, and then move through the Babylonian era and into the Assyrian era -- then right on up until the start of the Islamic times," explains Mohammed, a Kurdish single woman in her forties who happily admits her life revolves around the fashion house.
Crass modernity, however, clashed brutally with the ancient arts when US-led troops invaded Iraq in 2003, unleashing a savage wave of looting during which priceless antiquities and historial artworks were plundered along with consumer items such as televisions, fridges and hi-fi sets.
Mohammed, who has worked at the Iraqi House of Fashions since 1978, arrived at the building on a day in April 2003 when the sky was cobalt blue but the air was filled with foreboding.
She expected the worst and she found it. The building had been looted and set ablaze. She remembers sobbing for an entire month.
-- After US-led invasion, 33 years of work destroyed in a day --
"I was numb. Thirty-three years of work had been destroyed in one day. The dresses had been stolen or burnt. Everything was in ruins. It was ugly and empty. I was in shock. This is my home and my family and it had been plundered and ruined."
Dressmaker Najat Kadum, 51, who in her 18 years at the fashion house has sewn so many dresses that her fingers are blunted and her eyes strained, says she fell into depression when she saw the damage done to her creations.
"Most of them were gone. Some were still there but had been burnt. The sight hurt my eyes and seared my soul," says Kadum from beneath a yellowing hijab, while sewing a dress embroidered with a scene showing Babylonian King Hammurabi on his throne alongside his famous law code, circa 1792-1750 BC.
Hannah Sadiq, who is in charge of the dressmaking section, says more than 1,000 dresses were stolen or destroyed. "It was like losing one of your children."
After several desolate months, the team regrouped and started all over again. It has not stopped since.
"For the past four years we have been rebuilding. We have created about 50 new dresses since then," says Sadiq, a shy 51-year-old, her white hijab pulled down low, almost covering her eyes.
"We've had some shows," says fashion house supremo Rammo, including one this year in Algeria and one in Arbil, capital of Iraq's northern autonomous Kurdish region.
"Now we are ready to travel abroad again -- we'd like to go to New York or to Paris but we need financial assistance."
Model Zaman Hussein, with angular face and scorching eyes, says she is proud to be "displaying our ancient civilisation".
"We don't present Western shows; rather they are folkloric, cultural and artistic," says Hussein, adding that in any case opportunities to model modern Western-style clothing in Iraq came to a halt when sectarian violence was unleashed by the bombing of a Shiite shrine in Samarra in February last year.
A sultry blonde tells AFP she is afraid to say she is a model in case extremists attack her.
"Society looks at us wrongly, saying that this job has no place in Arab society. I wish that society's view of women would change. Our society mocks models and even says, 'That man is a son of a model' in a sneering way."
Rammo fears that the US military is focused only on security and is not interested in preserving Iraqi culture -- which has made her even more determined to do exactly that within the safety of the Iraqi House of Fashions.
Meanwhile she is offering a haven for Iraq's hunted artists.
"We are like a magnet. Any artist who wants to work, our doors are open," she says with a soft smile.

by Bryan Pearson
Copyright © 2022 AFP. All rights reserved. All information displayed in this section (dispatches, photographs, logos) are protected by intellectual property rights owned by Agence France-Presse. As a consequence you may not copy, reproduce, modify, transmit, publish, display or in any way commercially exploit any of the contents of this section without the prior written consent of Agence France-Presses.