Interview with Bruno Sälzer: "We've taken Escada towards more everyday fashion"
Bruno Sälzer, the iconic former CEO of Hugo Boss, has been at the help of Escada since 2009, leading the Munich-based label through its bankruptcy and surviving the buy-out in 2009 by Megha Mittal, daughter-in-law of Indian steel magnate Lakshmi Mittal. In those four years, Escada has worked on its collections and this year will see the fruits of its labour: turnover is expected to exceed 320 million euros. The symbolic half-a-billion threshold was reported in the German press recently as its target. Bruno Sälzer gives his thoughts on the past few seasons and Escada's projects.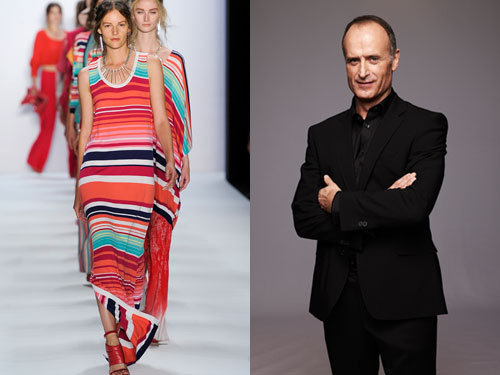 Escada Sport in Berlin / Photo: Pixel Formula. Bruno Sälzer is aiming at a turnover of half-a-billion euros in the mid-term / Photo: DR
FashionMag.com: Escada Sport has opened Berlin Fashion Week for the second time. Is this a sign of rebirth?
Bruno Sälzer
: Berlin has a certain influence on Germany. Naturally, it doesn't compare to Milan, Paris, London and New York, but the city has its own identity combining contemporary, casual and urban fashion…it's this combination which is unique. Through its runway shows, as well as Bread & butter, Premium and other trade fairs, Berlin has its own way of showing off its fashion – as an unfinished piece of art, as if everything was still coming together.
FM: For Escada Sport?
BS
: Escada Sport has its rightful place in Berlin. It's an innovative, sports-oriented and casual line; it's vibrant, with vivid colours. What's more, the period of bankruptcy that we went through is still fresh in our memories. Presenting in Berlin, both at Premium and on the runway, it a hugely important step for us to show that Escada is back.
FM: Are you planning any runway shows in other cities?
BS
: Milan and London are too far removed in terms of style from our core collection. Paris on the other hand is the womenswear Mecca. New York would be good, too, as the American market is by far our largest market. But it's still too soon.
FM: You've said that you think the reorganisation phase is complete. Can you be more explicit?
BS
: That phase gave the label a new direction, so we needed to set a new tone whilst also respecting the brand's heritage. Heritage is important, not only in the collections but also in terms of clients and employees. The brand's character needs to be preserved: fashion with a glamorous touch, lots of colour, good quality, good cut and femininity. It needs to be contemporary, but we want Escada to be synonymous with glamour and modern elegance. We've achieved our new direction. It took 5 or 6 seasons – for consumers also to understand where we were going.
FM: How did you go about it?
BS
: We took Escada towards more everyday fashion. Historically, Escada has been very oriented towards cocktail dresses, but not every woman has big events every week. So, the collection is now more focused on 'buy now wear now'. But dresses are still at the heart of the collection – they are for women what suits are for men. We've also overhauled our prices with dresses starting at 500 – 600 euros: retail prices have gone down on average by 20%.
FM: You've also drastically reduced the size of the collection.
BS
: We've halved its size, if you compare the current collection with 2008. When the collection is smaller, you need to have a strong identity.
FM: And licences?
BS
: There's fragrances, glasses, home-wear and as of recently, watches and jewellery. I don't think we're going to start designing hotels any time soon. Perfumes are the most important of all as they give consumers easy access to our world. In terms of retail value, perfume sales exceed 200 million euros.
FM: How does Escada fit in with other brands?
BS
: The core collection, for ready-to-wear, roughly sits alongside Armani, Max Mara, Dolce&Gabbana…Escada Sport is more in line with Burberry, See by Chloé, Isabel Marant…
FM: Whereabouts are you present in the world?
BS
: We operate in 80 countries. The US is our largest market and represents 21% of our business. Then there's Germany, Russia, China, Japan and Spain, all on equal pegging. China obviously has the potential to become our second biggest market between now and 2013 or 2014.
FM: Does becoming dependent on the Chinese market worry you?
BS
: At the moment we have 60 stores in China, in 25 cities. Half of them are own-brand stores. I can easily imagine our sales there doubling in the next four years. A third of the growth in the luxury market is down to China. You have to be there. What's more, it's a fashion-focused country and not at all boring. The Chinese also keep up to date with what's going on via the internet.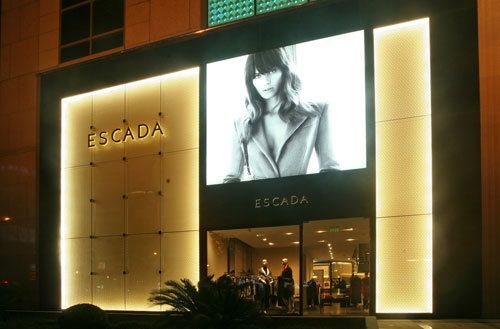 The Shanghai boutique / Photo: DR
FM: Whilst we're on the subject, Escada isn't sold online yet…
BS
: That's an over-simplification. Some of our wholesale clients sell online. Our online retail site is scheduled for some time in 2013. But the challenge with selling clothing online is bringing the shapes to life. Online sales of accessories and shoes are much more successful. A luxury bag carries a name, and that speaks a thousand words.
FM: You've re-opened a store on the avenue Montaigne in Paris with a new retail concept. How important is retail, particularly in terms of investment?
BS
: Our 200 stores represent around half of our sales. If you add to that the 140 franchised stores, mono-brand retail reaches 75%. We've renovated our stores with the new Gold concept for Escada and the silver concept for Escada Sport. In 2011, two thirds of our 15 million euros of investments went towards renovating and expanding the network. That figure will be more or less the same this year.
FM: Are you going to open many stores?
BS
: It's difficult to put a figure on it. We have to continually adapt our network to the market, which also means closing certain stores. Sometimes, stores open but in fact we're just moving to a new, more fashionable location. Avenue Montaigne will always be avenue Montaigne, though.
FM: You held an event at KadeWe in Berlin. What role do department stores have to play?
BS
: Lots of people in the luxury market place all their bets on retail – up to 80% for accessories labels and between 50 and 60% for clothing. Good department stores, like Bon Marché, Harrods or even KadeWe, have worked a lot these past few years on their concept. The markets are also very different when it comes to department stores. In the US, they're the main player with Neiman Marcus, Sakes Fifth Avenue…they're an open door to the market. In Japan too. And then in Asia, shopping centres are important. In Europe, it's a mix of department stores and mono-brand stores.
FM: What about the French market?
BS
: France is our seventh biggest market. On the whole it's very important for women's fashion, because most of the big fashion houses are French. It's a bit like Italy, which is so important for menswear. We have 13 boutiques and 70 wholesale clients in France. It's an important country for us because French people know what a good collection is, a bit like how Germans know a good car when they see one. And in Paris we have to take on the whole sector, it's the international shop-window for womenswear. (During Fashion Week, Escada met with 40 Japanese buyers in two days – Ed.)
FM: Do the rumours of a menswear launch bother you?
BS
: Not at all. We don't have any concrete plans. For the time being, all we've got is prototypes. It's always important for a label to look at clothing for the other sex.
FM: Is it a handicap, being an isolated luxury label when you're faced with so many groups?
BS
: In truth, the market leaders, LVMH, PPR and Richemont, have certain advantages, for example in terms of looking for retail spots. They can, for example, place one of their lesser brands in a shopping centre. Then of course also in terms of economies of scale…but the luxury market isn't unique from other industries in having both those big groups that dominate it and isolated labels. You need to be quick-thinking and intelligent when competing with those groups. Armani, Hugo Boss and Ferragamo are good examples of independent labels which have been successful. But luxury goods are different from other consumer goods in that the brand's identity and character must remain individual. LVMH treats each of its labels as a separate house, each with its own headquarters and creative team, etc. As a result, in this industry, you need to weigh up the advantage of belonging to a group.
FM: What are your goals for this year?
BS
: Sales growth should sit at between 5 and 7%. And our turnover will easily exceed 300 million euros. Profitability should be on the up.
Copyright © 2023 FashionNetwork.com All rights reserved.