Indonesia ship targeted by Greenpeace loads palm oil
By Yayat Supriatna
JAKARTA (Reuters) - Greenpeace tried to block a palm-oil tanker from leaving an Indonesian port on Friday for a second day to protest over forest destruction, but the vessel's owner said the ship was able to continue loading crude palm oil.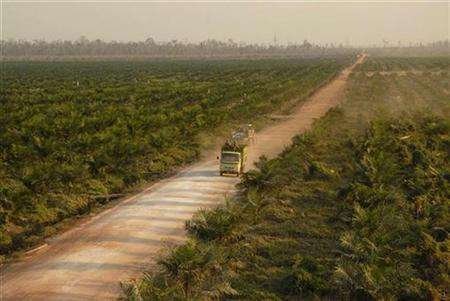 The environmental group's Rainbow Warrior dropped anchor next to the MT Westama in Dumai port on Sumatra island in a bid to prevent the tanker leaving for India, Greenpeace said.
The head of the Jakarta office of Permata Hijau Sawit Group, the ship's owner, told Reuters that the Greenpeace protest was not currently affecting the ship's operations.
"The vessel is actually docking at the port to load palm oil. It's not scheduled to leave yet," said Hendra G., the official.
He said the vessel, which has a capacity of 33,000 tonnes, had only loaded 2,500 tonnes of crude palm oil by early afternoon on Friday.
"But authorities should do something if the blockade is still going on when the vessel is set to leave," he said, adding the ship was due to finish loading on Friday night.
M Simandjuntak, acting head of Dumai port's administration, also said the tanker had been able to continue loading and so far there had been no impact from the Greenpeace vessel on the port.
The protest came ahead of an industry meeting on sustainable palm oil next week in the Malaysian capital, Kuala Lumpur, and less than three weeks before a U.N. climate change meeting on the Indonesian island of Bali.
Environmental groups have blamed palm oil companies for driving the destruction of Indonesia's forests and peatlands.
In a recent report, Greenpeace said that clearing forests that often grow on the country's thick carbon-storing peatlands released more than 1 billion tonnes of greenhouse gases a year.
Surging demand for palm oil in food, cosmetics and fuel was putting pressure on a ticking "climate bomb," it said.
Sue Connor, Greenpeace international forest campaigner, said by telephone from the ship that the protest was continuing.
"We're still blocking the vessel from leaving. We want to continue making the point that palm oil is the largest driver of deforestation in Indonesia," Connor said, without saying how long the protest might go on.
But she said the Rainbow Warrior was due to head to Jakarta and to Bali for the U.N. climate change.
The group has asked the Indonesian government to issue a moratorium on conversion of forests and peatlands into palm oil plantations.
Indonesia is set to take over from Malaysia as the world's top palm oil producer this year, with output seen at 17 million tonnes, up from 15.9 million tonnes in 2006.
It has more than 6 million hectares of lands planted with the oil palms and plans to expand that to 8 million hectares by 2010.
(Additional reporting by Fitri Wulandari and Telly Nathalia; editing by Ed Davies and Roger Crabb)
© Thomson Reuters 2023 All rights reserved.