Indian designers try to stay relevant in recession
By David Lalmalsawma
NEW DELHI (Reuters) - From shrinking their collections to slashing prices, Indian fashion designers are trying to cope with the global financial crisis, which has dimmed the appetite for haute couture internationally and at home.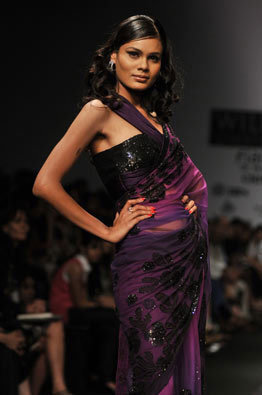 Champagne and Roses by Swapan and Seema at Wills Lifestyle India Fashion Week 2009
The economic meltdown was a recurring theme at this month's Wills Lifestyle India Fashion Week, one of two premier fashion events that ran concurrently in New Delhi. A third major event, the Lakme Fashion Week, kicks off in Mumbai on Friday.
"The whole world is going on sale right now," said designer Nitin Bal Chauhan, who has lowered his prices and cut up to 40 percent of his profit margin.
"As a designer, I think I should be more considerate and cut down on my profit margin and still make sure people can enjoy fashion," Chauhan said.
Other designers have cut back on production volumes, hit by growing evidence of restrained spending for clothes and accessories among well-heeled clients.
Business is certainly not booming and though numbers are yet to be collated, the president of the Fashion Design Council of India said sales at its five-day fashion event in New Delhi had been affected by the tough economic climate.
"It will be less...definitely not more than last year due to the recessionary trend in the market," Sunil Sethi told Reuters.
CRIPPLING RECESSION, CAUTIOUS BUYERS
The Indian fashion design industry's overall production was expected to grow to 7.5 billion rupees ($148 million) by 2012 from 2.7 billion rupees in 2007, according to The Associated Chambers of Commerce and Industry of India, helped by an affluent class which is increasingly focusing on fashion wear. The estimate has not yet been revised.
But international buyers, drawn by the handicraft and detailed embroidery in Indian fashion, have lowered their budgets due to a crippling recession and adjusted their purchases.
"Our decision (on budget) has been affected," said David Schneider from Portuguese retailer Texnorte-Porto.
"The way we pick and choose and take risk and select is going to be much more demanding in terms of quality and price," said Schneider, who attended the India Fashion Week for the fourth year in a row.
The message was loud and clear for couturiers at the fashion week, where 103 designers vied for the attention of 175 domestic and international buyers.
Some designers experimented with designs and fabric in response to customers' waning disposable income.
"I've combined high-street cheap leggings with very luxe jackets. I've combined very basic things like T-shirts with luxury shawls," said Kiran Uttam Ghosh, whose "Frugality is the new Black" collection is inspired by the global downturn.
Designer Leena Singh said she used embroidered prints instead of real embroidery on her designs to save on costs while Ranna Gill is catering to wider client tastes by also designing pant suits and jumpers.
But Indian designers are trying not to compromise too much on quality.
"We are cost-cutting back-end, which is the business side. But not on the runway," said designer Raghavendra Rathore.
(Writing by Tony Tharakan, Editing by Bappa Majumdar and Miral Fahmy)
© Thomson Reuters 2023 All rights reserved.