India's love affair with gold keeps going despite volatile prices
NEW DELHI, Sept 21, 2008 (AFP) - Pushpa Bhatia is in a dilemma as she scans the glittering gold offerings laid out on a showcase at a fancy jewellery store in the Indian capital.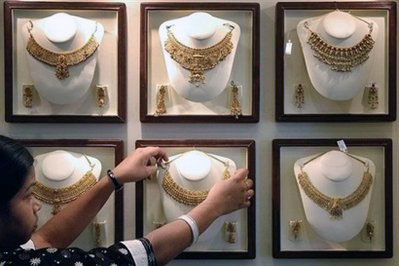 Photo : Noah Seelam/AFP
With the precious metal's price on a roller-coaster ride, she's wondering whether she should buy now or wait.
"Will the price go up or down -- you tell me," the sari-clad Bhatia says to the salesman, who responds with a shrug.
Last week, gold posted its biggest weekly gain in a decade, climbing by 13 percent to 864.70 dollars an ounce, as mounting credit turmoil pushed investors into safe haven assets.
But Bhatia can't wait too long -- India's marriage and festival seasons are approaching and she needs gold for both.
She has a 23-year-old daughter getting married in November and she likes to give small "auspicious" golden gifts for the Hindu calendar's biggest holiday of Diwali, or the Festival of Lights, in October.
India is the world's biggest gold consumer, importing 700 tonnes to 800 tonnes a year on average -- around 30 percent of global demand.
And higher prices won't stop Indians buying, said Suresh Hundia, head of the Bombay Bullion Association.
"Those who have marriage commitments will buy -- no matter what the rates," said Hundia.
Indian brides are traditionally bedecked in heavy gold jewellery -- seen as a family heirloom and also security.
With around 10 million marriages a year in the country of 1.1 billion people, wedding-related demand is huge, especially during the nuptial season between October and January and April and May.
"The idea of giving gold to the bride is it will bail her and her family out in times of crisis," said Ajay Mitra, managing director of the World Gold Council in India.
The gold given to a bride is known as "streedhan," or "woman's wealth."
In fact, said jewellery store salesman Devender Kumar, "most of the time the customers don't even look at the design -- they just look at the weight."
However, lifestyles are changing in urban areas.
Bhatia's daughter, Supriya, a newly minted accountant in tight trousers and an applique T-shirt, says she's bored with the metal.
"It's too heavy to put on," she says, screwing her face in disgust at an elaborate gold chain the salesman is looping around her mother's neck.
The vast array of consumer goods and trendy accessory jewellery to be found in India's cities have made gold a less sought-after item for many.
"For thousands of years women had very little personal wealth other than their jewellery -- they didn't have bank accounts," said Arvind Singhal, head of retail consulting firm Technopak.
"But now with the empowerment of women in urban areas, they want to spend their disposable income on cars, TVs, holidays, a new handbag," said Singhal.
Still, bride-to-be Supriya Bhatia knows she won't win the battle over her gold wedding jewellery as her mother orders her to sit and pay attention.
"It's a necessity to own gold if you're a woman," said her mother firmly.
And even though urban tastes are changing, India's overall gold consumption is unlikely to alter much in the foreseeable future, analysts say.
There is "a growing trend toward luxury goods rather than wanting to buy gold in urban areas," noted Suki Cooper, analyst at London's Barclays Capital.
But she said "the majority of gold consumption is in rural areas," where "that level of consumerism doesn't exist so India is likely to stay a very important gold consuming nation."
In the countryside, where the banking system is still poorly developed, gold rules as a medium of financial exchange and secure savings vehicle.
"Beyond the big cities, gold is something which has intrinsic value for consumers," said the Gold Council's Mitra.
"They know they will never get cheated. It's an insurance."by Penny MacRae
Copyright © 2023 AFP. All rights reserved. All information displayed in this section (dispatches, photographs, logos) are protected by intellectual property rights owned by Agence France-Presse. As a consequence you may not copy, reproduce, modify, transmit, publish, display or in any way commercially exploit any of the contents of this section without the prior written consent of Agence France-Presses.