India's Galliano says it's all about the product
NEW DELHI - Indian designers are famous for their elaborate embroideries and rich textiles but have yet to come up with products to woo the world's fashion hotspots in the West, says Manish Arora, the international face of India's fashion industry.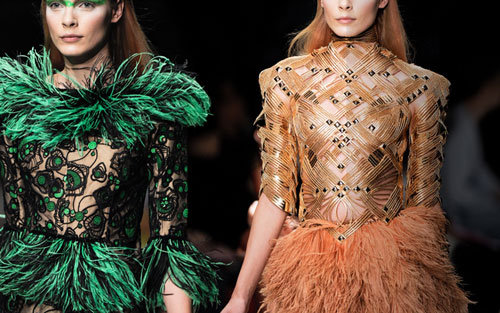 Photo: Manish Arora spring-summer 2012
Known for his colourful and psychedelic designs, Arora is the only Indian who is a regular at the Paris Fashion Week, and boasts of celebrity clients such as singers Lady Gaga, Katy Perry, Rihanna and Nicki Minaj.
Demand for Indian couture has surged in the Middle East and East Asia in recent years, but the geographically and culturally distant West remains a largely unexplored frontier.
Many designers say they just need exposure to carve out a market in places like Europe and the United States, but Arora disagrees.
"I don't think it's like that (exposure). It's the product which matters at the end of the day," Arora, who just launched his Spring/Summer 2012 collection in India after showcasing it in Paris, told Reuters in an interview.
"If your product is ready for the international market, then it will be there."
While flowing dresses with intricate draping and heavy embroidery mastered over centuries in India may suit rich buyers in Dubai and Riyadh, they remain novelty items in Paris and London, where the avant-garde is celebrated.
Arora, who is often described in the media as India's "John Galliano" for his innovative and bold cuts, said his originality is what earned him recognition in Europe.
"I guess what people like about my work is that I have a very strong individual style. That's what works for me," said the designer, whose overseas clients account for around 70 percent of his sales.
The New Delhi-based designer is stocked in 75 stores worldwide with a majority in Europe. The price of his Spring/Summer collection ranges from 8,000 to 75,000 rupees ($151 to $1418.)
Arora's creations are combinations of intricate Indian craftsmanship and futuristic designs which are sometimes described as "bizarre' or "theatrical," earning him fans like Lady Gaga.
"I don't do anything specific to dress celebrities up. Katy Perry, she noticed my work herself through shows ... and Lady Gaga or Rihanna, their stylists are always looking at everybody's work and I guess I match very well with their personality," he said.
Arora, who was appointed as creative director of French fashion house Paco Rabanne in February 2011, said he had left the label after completing his one-year contract.
"I'm finished. It was just for a year," he said.
Arora's international success apart, a majority of Indian designers still sell around 80 percent of their products at home, where couture is still primarily a bridal wear market catering to the big, showy Indian wedding.
This means that the fashion industry is still relatively small, estimated to pull in around 7.5 billion rupees ($166 million) in 2012, according to a 2008 report by business body ASSOCHAM.
Despite the economic and cultural hype surrounding India in recent years, Arora said the country's designers have yet to properly cash in.
His advice? Be original.
"To each his own. Everyone has their own individual style and it depends on them," he said.
© Thomson Reuters 2023 All rights reserved.