India retail reform unravels after backlash
India suspended plans to open its $450 billion supermarket sector to foreign firms such as Wal-Mart Stores Inc (WMT.N), backtracking from one of the government's boldest reforms in years in the face of a huge political backlash.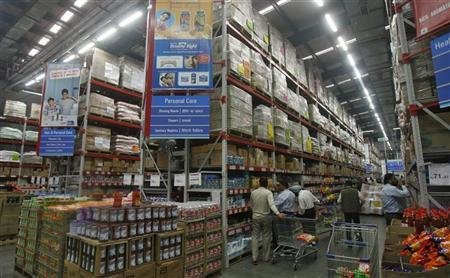 Customers shop at a Best Price Modern Wholesale store, a joint venture of Wal-Mart Stores Inc and Bharti Enterprises, at Zirakpur in the northern Indian state of Punjab / Photo: Reuters
The retreat, within two weeks of the policy being announced, is another nail in the coffin of Prime Minister Manmohan Singh's economic reform program, just as Asia's third-largest economy suffers from slowing growth and falling investment.
It is also likely to cement a view that India is an emerging market slowcoach compared to other so-called BRICS nations such as China and Brazil.
"The image, the credibility of the government is lost," said D.H. Pai Panandiker, head of the RPG Foundation think-tank.
Both ruling Congress party allies and opposition parties, fearing job losses for millions of small shopkeepers, had disrupted parliament for two weeks in protest, stalling some key bills such as increased food subsidies for the poor.
"The decision to permit 51 percent FDI in multi-brand retail trade is suspended until a consensus is developed through consultations among various stakeholders," Finance Minister Pranab Mukherjee said in a statement on Wednesday.
On the upside, putting the retail plan on hold will get parliament back to work, allowing the government to pass other key reforms.
The policy would have allowed foreign firms such as Wal-Mart, Carrefour (CARR.PA) and Tesco (TSCO.L) to own 51 percent in supermarkets, with the government hoping this would ease high inflation, and draw in investment to improve supply-chain infrastructure and create jobs.
A parallel change allowing single brand foreign retailers, for example Sweden's Ikea, to fully own ventures in India was not suspended, a cabinet minister said.
"The opposition parties have not opposed 100 percent FDI in single brand retail. So there is no ambiguity," the cabinet minister, who declined to be named, told reporters.
The government gave no timeframe for reviving the supermarket reform. Analysts and industry hands said deep political divisions over the issue could keep it on the back-burner even beyond general elections in 2014.
"The sense we get is that the policy has been moved to the cold storage for quite some time now. In fact, there is a growing sense that this might even move beyond and happen post elections," said Thomas Varghese, CEO of Aditya Birla Retail, which owns India's More supermarket.
Shares in Indian retailers were mostly flat on Wednesday, after falling sharply earlier this week when news of the reform "pause" leaked out.
"The business community is frustrated anyway. In fact, many of the companies are cash rich, but still don't want to invest. The decision-making process by the government has almost come to a stop," said Panandiker.
The Federation of Indian Chambers of Commerce and Industry, a business group, called the decision "deeply disappointing."
It proposed watering down the plan to limit FDI in supermarkets to 49 percent, make the big retail groups source more produce from small businesses and only allow foreign store openings in cities with at least 1.5 million people.
One senior government source said it was "premature" to say the retail plan would be watered down in the future.
POLITICS RULES
With state elections next year, including the politically crucial state of Uttar Pradesh, the window for reform may be closing quickly. One leftist party called the suspension a "virtual rollback."
"From now until the UP elections, I think it will be a stalemate again, except for populist measures," said Panandiker.
The retail plan may not be dead yet. Three years ago, Singh pushed through a civil nuclear agreement with the United States despite initial defeat at the hands of allies and rivals that almost brought down his government.
But the rapid about-turn and obvious disarray among ministers has raised questions as to who is running India.
Singh is 79 and his cabinet are mostly septuagenarians seen as out of touch with this globalizing nation. Sonia Gandhi, Congress party chief and India's most powerful politician, suffers from an undisclosed illness reported to be cancer.
The government has stumbled amid corruption scandals this year and has not passed a single major reform bill.
"Prime Minister Singh and his colleagues, economically, they are very smart, but in a democratic system, particularly when you have a coalition, you also need to be politically competent," said Anil Gupta, an INSEAD business school professor.
The economy grew at its weakest pace in more than two years in the quarter to end-September, revealing the toll that stubborn inflation, rising interest rates and crisis-hit global capital markets are having.
By Manoj Kumar
(Additional reporting by Nigam Prusty, Annie Banerji and Matthias Williams in NEW DELHI and Henry Foy and Nandita Bose in MUMBAI; Writing by Alistair Scrutton and Frank Jack Daniel; Editing by John Chalmers and Ian Geoghegan)
© Thomson Reuters 2023 All rights reserved.