India cotton acreage to rise on higher price
By Sourav Mishra

MUMBAI, May 18 (Reuters) -India's cotton acreage may increase slightly on higher prices, less availability of water for irrigation in the northern states, which may see farmers shift back to cotton from rice cultivation, traders, farmers and officials said.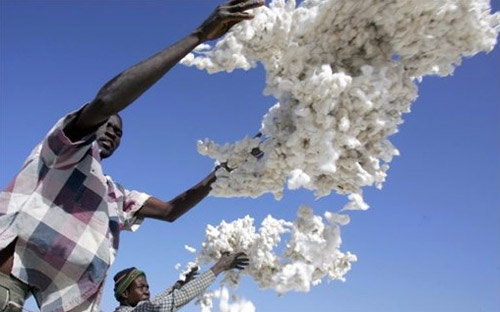 Photo : AFP
They, however, cautioned that a ban on exports of the commodity since last month may weigh on some growers' minds and limit the upside in acreage.
"We are expecting the acreage to remain same or a bit higher than previous year under present circumstances," said A.B. Joshi, textile commissioner and chairman, Cotton Advisory Board.
According to analysts, traders and officials estimate acreage may hover around 11 million hectares up from 10.17 million hectares in 2009.
Maharashtra, the top growing state, expects a rise in acreage considering the attractive price the commodity brought compared with competitor soybean, thanks to a jump in export of the fibre.
"We are not expecting any erosion in cotton acreage since farmers got good remuneration last year. Farmers who cultivated soybean did not get returns as good as cotton farmers," said Purushottam Raut, director, Maharashtra farm department.
India on April 19 stopped exports of cotton after shipping 6.01 million bales since the marketing year began in October 2009. Traders had registered another 2.5 million bales and may be allowed to ship on meeting conditions.
In Gujarat, India's biggest cotton producing state, the thrust is on bringing more area under pulses and edible oilseeds, but farmers may still opt for cotton due to higher returns fetched last year.
Traders estimate a 5-7 percent rise in acreage in Gujarat after it rose around 11.5 percent last year.
"Pricing is enough incentive for farmers to go for cotton. But if export ban is not lifted before sowing begins, we might see some contraction in acreage," said N.M. Sharma, managing director, Gujarat State Co-operative Cotton Federation Ltd.
Prices of cotton have fallen about 20 percent since April 19 when exports were banned. However, prices are still up to 34 percent higher compared with previous year, an official with the state-run procurer and exporter Cotton Corporation of India said.
The official said despite a curb in exports domestic demand remains robust, so the local prices will still be attractive.
Higher prices would also prompt growers of other crops to switch to cotton for higher returns. In Madhya Pradesh and Andhra Pradesh, farmers are likely to switch to cotton from crops like rice, soybean, pulses and groundnut, traders said.
"Cotton is likely to be the first choice for farmers as it has given better returns last year compared to other crops including pulses," said G. Punnaiah Chowdary, president, Andhra Pradesh Cotton Association.
"The possibility of farmers shifting from soybean to cotton cannot be ruled out as soybean farmers are carrying huge carryover stocks," said Shiv Kumar Sharma, president, Madhya Pradesh Farmers' Union.
Around 10 percent of farmers may opt for cotton as alternate crop, he said.
Meanwhile, in Punjab and Haryana, the fourth and fifth biggest producers of cotton in India respectively, paucity of irrigation water could be another major factor in seeing farmers switch back to cotton from rice.
Shortage of irrigation water may keep farmers away from rice in the cotton belt of Punjab and Haryana, said Rakesh Rathi, president of North India Cotton Association (NICA).
However, preliminary reports from Haryana suggest sluggish planting after a prolonged dry spell.
"If the dry spell continues, cotton sowing will be delayed, which will affect the per-hectare yield. In absence of rain cotton sowing is getting delayed due to which cotton quality may also suffer," said B.S. Duggal, additional director with the Haryana state farm department.
(1 bale=170 kg) (Additional reporting by Vikas Vasudeva and Surinderpal Singh in CHANDIGARH; Darshan Mankad in AHMEDABAD; Ramesh Jadhav in PUNE; Arvind Sharma in JAIPUR; Kaushal Verma in BHOPAL; Ashok Kumar in HYDERABAD; Editing by Sunil Nair)
© Thomson Reuters 2022 All rights reserved.