In downturn, luxury brand Bally eyes Asia and beyond
By Miral Fahmy

SINGAPORE (Reuters Life!) - Fresh from a makeover, luxury leather goods and clothing label Bally is out to woo fashionable Asians, but not at the expense of European and American customers who have been harder hit by the downturn.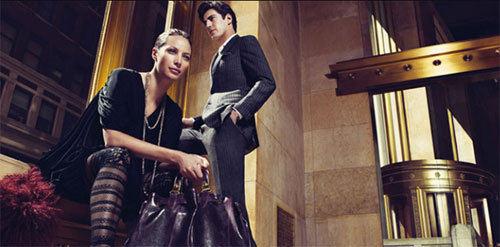 Photo: www.bally.com
Bally, founded as a family-owned business in Switzerland in 1851 and now part of the Labelux luxury brand group, is the latest in a long line of high-end retailers to boost their presence in Asia, a bright spot amid the gloom of the past year.
Luxury goods have largely fallen out of favor in Europe and the United States, but as many Asian economies were not as badly affected, the appetite here remains relatively healthy.
Newly appointed CEO Berndt Hauptkorn said Bally, like other retailers, would only increase their stake in Asian markets, but added that did not mean his company would neglect other so-called flagship destinations in its bid to build the brand.
"It's very important for us to position ourselves as a luxury company," Hauptkorn told Reuters in Singapore, where he was opening Bally's largest store in Asia.
"The Asian market is very important for us, but while other companies solely focusing on, say, China, we are also focusing on key markets in Europe and flagship locations worldwide, despite the economic situation. That's what long-term investors do."
Asia currently contributes 35 percent of Bally's business, and is home to 61 of its 180 self-branded stores.
Opening a store in Singapore, home to the worlds' highest density of millionaires and which is positioning itself as a center for luxury living, make sense for a brand raising its profile, but Bally has also recently opened shops in Rome, Milan and New York.
A Las Vegas store will open later this month and one in Vienna in 2010.
"Our customers are sophisticated, fluid, worldwide travelers and as part of our need to refresh the brand, we have to be in locations that are seen as references for others. It's good image-building," Hauptkorn said.
Some studies have shown that up to 40 percent of luxury goods purchases in Europe in the past year were done by Asian visitors.
And in a bid to distinguish itself from the legions of luxury goods competing for diminishing resources, Hauptkorn said Bally would leverage its heritage -- the brand turns 160 in two years time -- to appeal to consumers in a contemporary way.
"Bally is a brand very well known for its competence, but not many people know it was was involved in the production of the shoe for the moon landing. Himalayan expeditions of the 1940s wore Bally shoes," he said.
"We plan to pick stories from our past and make them relevant to our customers today, as people like to associate something exciting with products. We want to make sure we have merchandise that also has something to say."
In select Asian stores, there are limited edition bags emblazoned with a tiger motif, the horoscope animal of the coming Chinese new year. In Singapore, limited edition, intricate men's and women's shoes reproduced from 1930s designs are on offer.
(Editing by Sanjeev Miglani)
© Thomson Reuters 2023 All rights reserved.