Holiday weakest since 1970, more retail cuts seen
By Nicole Maestri
NEW YORK (Reuters) - Not since at least 1970 has holiday shopping in the United States posted such dismal numbers, according to data released on Tuesday that was likely to prompt retailers to curtail their business even more in 2009.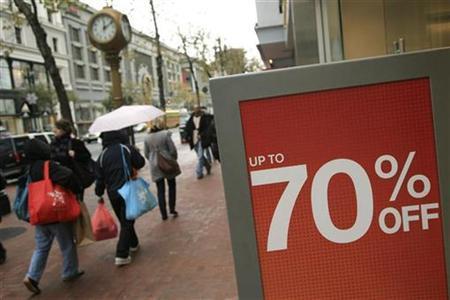 The International Council of Shopping Centers said sales fell even in the week that included Christmas Day. It expects November and December sales to be down 1.5 percent to 2 percent, which would be the first decline since the ICSC began tracking holiday sales in 1969.
While there is still some time for retailers to capture holiday sales, "I don't have a lot of hope that it gives you a surprise lift," said ICSC Chief Economist Michael Niemira. "The discounts are so great and demand is so uncertain and uneven."
In similarly grim news, U.S. consumer confidence fell to a record low in December, while prices on U.S. single-family homes in October sank 18 percent from a year ago, according to new data.
Once the holiday ends, weak spending in the first half of 2009 could pressure retailers into additional store closings, said Kim Picciola, an analyst with Morningstar. The sector has already tried to cut its spending, with some retailers even seeking bankruptcy protection.
"The first half of 2009 is going to be another difficult period for retailers," Picciola said. Morningstar does not expect retail sales to improve until 2010.
Investors took the gloomy figures with a grain of salt and selectively purchased retail stocks, betting a bottom may be forming for the beaten down sector. The Standard & Poor's Retail Index rose 1 percent in early afternoon trading.
"Consumer stocks have bottomed out and we believe that this is one of the better areas for upside opportunity during the next six months," said Richard Hastings, a consumer strategist at Global Hunter Securities LLC.
According to the ICSC-Goldman Sachs Weekly Chain Store Sales index, sales at U.S. chain stores fell 1.8 percent in the week ending December 27, compared with the previous year, while sales fell 1.5 percent compared with the prior week.
RECESSION HOLIDAY
The U.S. economy has been suffering from a recession since December 2007, with diminished access to credit and rising job losses whittling consumer budgets this holiday season.
To appeal to cash-strapped shoppers, retailers started cutting prices well before the U.S. Thanksgiving weekend, which marks the official start of the year-end holiday sales rush.
But the economic outlook darkened as the holiday season progressed and sales trailed expectations. Retailers' initial price cuts of 20 percent to 30 percent quickly turned into discounts of 60 percent to 70 percent.
Winter storms in the U.S. Northeast and Midwest also kept shoppers from stores during the last weekend before Christmas, one of the busiest shopping periods of the holiday season. In response, retailers introduced more discounts and online offers in a last-ditch effort to win sales and clear merchandise.
But the markdowns will eat into profits. Stifel Nicolaus cut its fourth-quarter earnings forecast for many retailers, including American Eagle Outfitters Inc, Abercrombie & Fitch, Casual Male Retail Group, Gap Inc Nordstrom Inc, Limited Brands Inc, Ross Stores Inc and Urban Outfitters Inc.
Casual Male's shares fell 8 percent on Tuesday, while American Eagle dropped 1.3 percent.
BETTING ON A BOTTOM
Hastings said a positive sign for retailers is the easing of the credit markets, which could make it easier for companies to borrow money and finance the purchase of inventory.
"We really have become more comfortable ... about some of the heavy borrowing names that we were much more worried six weeks ago," Hastings said, referring to retailers like Sears Holdings Corp and Bon-Ton Stores Inc.
But Hastings said he would be cautious on companies like Liz Claiborne Inc or Jones Apparel Group Inc that sell their merchandise in department stores. Apparel makers could face a tug-of-war with the retailers that slashed prices more than had been planned, but still expect their suppliers to swallow some of the cost.

The ICSC weekly U.S. retail chain store sales index measures nominal same-store sales, excluding restaurant and vehicle demand, and represents about 75 retail chain stores.
(Editing by Dave Zimmerman and Maureen Bavdek)
© Thomson Reuters 2023 All rights reserved.