Holiday sales seen strong, but still discounted
Discounts and mild weather are bringing out shoppers at a better-than-expected pace this holiday season, with department stores like Macy's Inc (M.N) doing well and women's apparel retailers feeling pressure.
"Some of the women's retailers that were doing well earlier in the year are getting hurt this holiday by the resurgence of the department store," said Customer Growth Partners President Craig Johnson. The retail consulting firm had been one of the most bullish forecasters of 2011 holiday sales.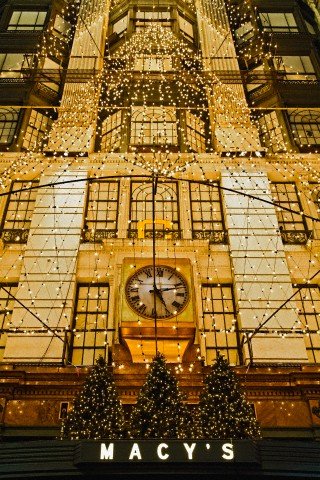 Macy's, Photo: Corbis Images
Customer Growth Partners estimated that U.S. retail sales on Saturday were $26 billion. That would be just shy of the $27 billion spent on "Black Friday," the day after Thanksgiving that traditionally kicks off the holiday shopping season.
The Saturday before Christmas, typically called "Super Saturday," is usually one of the busiest shopping days of the season. This year, retailers designated December 17 as "Super Saturday" since the Saturday before Christmas is Christmas Eve, a day when many shoppers are already traveling or gathering with family.
Despite continuing high unemployment that analysts were expecting to cut into holiday spending this season, Johnson said people with jobs have reduced their debt and are now back to spending. They are using cash, though, rather than taking on more debt.
Johnson estimates that per capita spending will now exceed the record set in 2007, before the most recent recession.
Other forecasters are also looking for sales to be better than expected in November and December.
ShopperTrak, which monitors traffic at shopping malls, now expects sales in those two months to show a 3.7 percent rise, up from its September forecast of 3.0 percent.
Last week, the National Retail Federation raised its forecast, calling for holiday sales to rise 3.8 percent. In October, it had said it expected a gain of 2.8 percent.
WANT A DEAL? BUY A COAT
The recession conditioned U.S. shoppers to look for deals, and the stronger sales have still stemmed from discounts, which can hurt retailers' margins.
Many retailers' gross margins are likely to decline this holiday season, according to data from Thomson Reuters I/B/E/S.
This past weekend, 40 percent discounts across stores "seemed to be the cost of doing business," said Nomura Equity Research analyst Paul Lejuez. "This is a bad sign for margins, as promos are likely to intensify this week."
Among the retailers offering such discounts were Abercrombie & Fitch Co (ANF.N), American Eagle Outfitters Inc (AEO.N), Ann Inc (ANN.N), Gap Inc (GPS.N) and Wet Seal Inc (WTSLA.O), Lejuez said.
The mild weather has cut into sales of winter clothing, said independent retail analyst Brian Sozzi.
"Coats are offering some of the best deals in the mall right now," he said.
One of the featured items on Macys.com on Monday was women's coats for 40 percent to 50 percent off.
"Those cold temperatures that you typically experience in December just haven't been there," said Joe DeRugeriis, senior marketing manager at Planalytics, which provides weather consulting services for businesses.
"People are still going to spend the cash," he said, "but the cash is moving to things more like electronics and not those items that normally sell well this time of the year."
Despite the higher sales forecasts, Sozzi said that from what he has seen at stores, the extended hours and deep discounts around "Black Friday" pulled sales into November, pressuring December.
"I think the season started off with a bang, and I don't think it is ending up that way," Sozzi said.
That could be good news for last-minute shoppers.
"I see markdowns picking up," Sozzi said.
(Reporting by Brad Dorfman in Chicago; additional reporting by Jessica Wohl in Chicago, Lisa Baertlein in Los Angeles and Nivedita Bhattacharjee in Bangalore; editing by John Wallace and Lisa Von Ahn)
© Thomson Reuters 2023 All rights reserved.