Holiday hangover means slow 2012 start for stores
Take a trip down Chicago's Michigan Avenue - known as the "Miracle Mile" for its shopping attractions - and you won't find a lot of activity a few days into the new year.
Nothing strange there - every year shoppers splurge ahead of Christmas and in the early post-holiday sales and then tend to disappear. But this year, retail experts say the hibernation will likely be deeper than usual.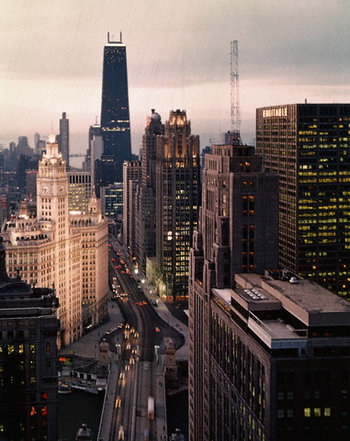 Chicago's "Miracle Mile" / Photo: Corbis
U.S. retailers are facing their biggest post-holiday depression since 2009 as consumers wary about the economic outlook cut back on spending to pay off credit card bills accumulated last month.
"The first and second quarters this year will see a deeper low than last year. Sales in the week after Christmas were so strong that took a bite from January," retail consultant Jan Kniffen told Reuters.
Kniffen, who mostly works with apparel companies, said he expects traffic in the first half of this year to be down about 2-3 percent, against the flat to slightly positive trend last year. Comparable sales are expected to rise around 2.5 percent, while they rose around 4 percent last spring.
As shoppers felt more confident about their finances and shopped more online, credit card usage rose after three years of major cutbacks in credit card use, a study by the America's Research Group showed.
"January post-holiday sales are expected to plunge to some of the lowest levels in years, thanks to a surge in credit card spending over the Christmas season," said America's Research Group Chairman Britt Beemer.
Beemer said credit card usage this year was up around 25 percent over last year.
"Now that those credit card bills are hitting mailboxes," shoppers will cut back in a very significant way relative to January and February of the last few years," Beemer said.
On Michigan Avenue and State street in Chicago, stores ranging from Macy's Inc (M.N) to Inditex (ITX.MC) owned Zara all had discounts of 30-50 percent on their merchandise this week, with New York & Co going up to 70 percent off on some work clothes for women.
"You are going to see 50-75 pct off at most of the retailers towards the end of January," said Khawaja Munir, a New York-based sourcing agent who works with brands like Tommy Hilfiger, Zara, Nautica and Aeropostale Inc (ARO.N).
Munir said most of the spring goods for 2012 have already been shipped to stores, so they won't get too big a window before clearing out their old merchandise.
Retail Metrics President Ken Perkins said same store sales were up 4.3 percent for both January and February last year.
Perkins expects sales this year to rise around 3 percent, making it the slowest January and February since 2009.
"January should benefit from clearance sales and gift card redemptions in the first half but (will) taper off. February concerns us more (since there is) no catalyst," Perkins said.
The first quarter is always a small season for retailers who typically try to sell left over merchandise during this time. But with stores putting out big, and often better deals during the holidays this year, there is almost no incentive for people to buy at this time now.
"It is the time of austerity in people's lives anyway, with new resolutions, bills to pay and over indulgence during the holiday season," said Kit Yarrow, a consumer psychologist and professor at the Golden Gate University.
And though employment growth accelerated last month, experts are eyeing the numbers with a pinch of salt.
Yarrow said consumers are less reactive to economic news than they have been in previous years.
"It has to be sale merchandise, things that make people feel that it is an unbeatable bargain. In the headiest of economic times people still cut back in January and February ... and no matter how optimistic consumers feel they've been trained to expect juicy discounts."
Barbara Smith, an out-of-work security person, was browsing through woolen scarves that were selling for around $9 at an Old Navy store.
"I come here for the deals. They always have discounts. I am done shopping for gifts, I'm now looking for some stuff for myself," Smith said.
But most of the stores had very few customers.
"We definitely don't have as much traffic, so what the company tries to do is to get all the stuff from winter go out on a markdown," Andrew Cruz, the store manager at Old Navy said.
Cruz said the company was already bringing in its Spring/Summer collection to lure tourists and shoppers who buy ahead of the season.
"We have some shorts in, but obviously most people are not going to buy that stuff in January so it is kind of slow, "Cruz said.
Aeropostale too was planning on bringing its spring floorset in by the weekend of January 7, spokesperson Kenneth Ohashi said.
"After the holiday selling season, if the customer is back, they obviously are shopping clearance. But they are also looking for fresh products. Women are about two thirds of our business and they buy ahead of season," Ohashi said.
We're going to set the spring floorset this Sunday. We feel like after the holiday selling season, if the customer is back, they obviously are shopping clearance. But they are also looking for fresh products and they are motivated.
Like Retail Metrics, International Council of Shopping Centers (ICSC)chief economist Michael Niemira said he expects same store sales to be up about 3 percent in January and February, and that people need to see consistently better employment to be more optimistic.
For December, the ICSC said same store sales rose 3.5 percent, on top the 2.8 percent rise in November.
A survey by marketing group NPD showed overall brick-and-mortar shopping visits fell by 9 percent in the week ended January 2, compared to the prior week, which included Christmas weekend.
Average spending was down 6 percent from the prior week.
"While this is not unexpected or surprising, it remains one of the greatest challenges of retail, how to sustain the interest and momentum of the holiday season after Christmas." said Marshal Cohen, NPD's chief industry analyst.
(Nivedita Bhattacharjee in Chicago; Editing by Richard Chang)
© Thomson Reuters 2023 All rights reserved.