Herrera lures Russians with boutique show
By Lidia Kelly
MOSCOW (Reuters Life!) - American fashion designer Carolina Herrera followed in the footsteps of her sartorial colleague Giorgio Armani this week by vying for a piece of Russia's recovering luxury good market -- the world's fourth largest.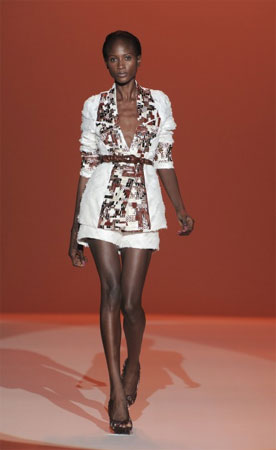 Carolina Herrera spring-summer 2010 in New York - Photo: Pixel Formula
Herrera, who dressed Jackie Kennedy Onassis in her later years, came to open her first boutique at the plush TSUM shopping center in Moscow's heart and host a show of her linen-woven Spring 2010 collection.
The 70-year-old designer is betting -- just like Armani, who descended on the Russian capital in October -- that Russian fashion followers, once known for their exuberant spending, will help expand her business.
Other designers remain uncertain about the country's recovery from a recession that wiped out a tenth of its economy in gross domestic product terms in the first half of the year.
Alexander McQueen and Stella McCartney boarded the windows of their boutiques less than a year and a half after opening, while others were forced to deal with drastically dropping sales.
But Herrera is optimistic.
"I think the crisis stopped many things, but fashion is the last one to go, because women are always buying," the designer, dressed in a sleek black velvet top and black pants, told Reuters after her show.
Russian consumers have been famous for most of the decade for their lavish spending and penchant for high-end brands, but the crisis has curbed their disposable income, taking a toll on the country's luxury market.
Incipient sings of economic recovery began last summer, however, fueled by relatively high oil prices -- Russia's chief export -- and the improving global outlook.
More festive and glittering decorations than a year ago have lit up Moscow's shops in recent weeks, fuelling hopes that this season will bring the Russian consumer back to buying.
Herrera showed some 200 elegantly dressed fans a collection of chiefly amber, rose and caramel dresses inspired by forms seen in Japanese baskets.
The designer seemed enchanted with what Moscow had to offer.
"I wish I could stay a week" she said.
(Editing by Steve Addison)
© Thomson Reuters 2023 All rights reserved.