Hard times hurt Spanish retailer El Corte Ingles
Economic crisis has hit Spain's venerable department store group El Corte Ingles hard, sending many of its once loyal customers to cheaper competitors and forcing it to do the previously unthinkable: slash prices and cut margins.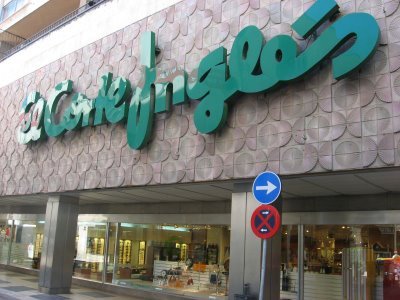 El Corte Inglés
One of Europe's biggest retailers and a barometer of the Spanish economy, El Corte Ingles has ridden good times and bad since the 1930s, catering to the middle class and never stooping to price wars with competitors.
But this summer, the group is advertising favourable price comparisons with its rivals for items such as mini donuts, jam and soy milk - a big change for a company previously known for glamorous commercials featuring celebrities such as U.S. film actor George Clooney and Spanish soccer star Fernando Torres.
The privately-owned, family-run business reported on Sunday that sales slipped in 2011 at its department stores, hypermarkets and convenience stores. That contrasts with budget supermarkets DIA and Mercadona, where revenue climbed as they grab market share from costlier retailers.
It's a tough new environment for the retailer, one of the country's biggest employers, which has long counted on customer loyalty and its uniqueness. One in four Spaniards has a store card from El Corte Ingles, which is still the only place to go for items such as school uniforms and certain small appliances.
"That requires us to...adapt ourselves with realism and a correct management of costs to the new demands of the consumer and the new realities of the market," wrote El Corte Ingles Chairman Isidoro Alvarez, the 77-year-old nephew of its founder, in a letter to shareholders in the group's annual report.
The euro zone debt crisis has battered Spain, which could follow Greece, Ireland, Portugal and Cyprus into needing international financial aid after entering its second recession since 2009 in the first quarter.
Spanish unemployment has hit 25 percent and consumer confidence is in the dumps, with retail sales down in June for the 24th straight month.
El Corte Ingles's turnover, which shrank 3.9 percent to 15.8 billion euros, still amounts to 1.6 percent of Spanish GDP and is higher than the 13.8 billion euros which the country's largest stock market-listed retailer, Zara owner Inditex, made in 2011.
The firm owns swathes of property in prime Spanish retail locations and is also one of the largest owners of car parking spaces in the country, giving it plenty of cushions.
"Fortunately, it has the financial strength to survive a crisis which is sweeping all before it," said Carlos Hernandez, an analyst at the consultancy Planet Retail.
SPANISH HOUSEHOLD NAME
The name of El Corte Ingles betrays its origins. It began in 1890 as a tiny tailor selling suits with "the English cut" in Calle Preciados, a street in the heart of Madrid. Ramon Areces bought the tailor in the 1930s, with the help of his uncle, and built the retail empire.
Surviving the Spanish Civil War and the Franco dictatorship which lasted until the 1970s, it blossomed in the early years of restored democracy to become the darling of shoppers with its then groundbreaking money-back guarantee.
It swallowed up its only other department store competitor, Galerias Preciados, in 1995, and pushed into all aspects of Spanish life, selling everything from designer fashion to mobile phones, kitchens, car insurance, theatre tickets, holidays and hearing aids.
But in 2011, of the company's largest revenue makers, only its travel business held up well, after a competitor went bust.
Sales at the 83 department stores fell 4.2 percent and those at its Sfera unit - a clothing store that competes with Zara - fell 8.5 percent, though cost controls helped the business make a net profit of 1.9 million euros.
Spaniards still value the money-back guarantee, which allows customers a refund on any unwanted purchases, but this is no longer an exclusive attraction.
Its food business has particularly suffered, with its hypermarket business down 13.6 percent and its Opencor convenience shops down 8.6 percent.
Spanish revenue at cheaper rival DIA grew 1.7 percent in 2011 while aggressive pricing by supermarket chain Mercadona allowed it to generate more sales and profit than El Corte Ingles's entire business last year.
Profits at El Corte Ingles were 210 million euros last year, down 34 percent, according to its results which it reports voluntarily and are not subject to the same regulations as a company listed on the stock market.
Belatedly, El Corte Ingles reacted in June with a campaign to offer the lowest prices on 4,500 products such as bread, milk and hake, a fish popular with Spaniards.
Hernandez said El Corte Ingles had no choice but to cut prices even though their brand was built on quality and service: "They need to remain in the premium sector, like the UK's Waitrose and Marks & Spencer."
STRIVING FOR LUXURY
El Corte Ingles is also trying to target high spenders, a potentially risky strategy because it could end up pleasing no one. It has invested in renovating often dated buildings and is using the high number of visitors to its stores to attract luxury labels to set up "corners" within them.
With 1.5 million visitors daily and no other national competitor, the brand is the first port of call for labels wanting to dip a toe in the Spanish market. This allows it to insist on 28-32 percent of a brand's in-store sales, according to someone with knowledge of deals signed.
At one Madrid store it opened a small wing of luxury shops such as Bulgari, Prada and Cartier, as well as a section of gourmet cafes and food outlets.
Designer Hugo Boss reported its Spanish sales rose 10 percent in the first quarter after it shifted to a shop-inside-a-shop strategy in El Corte Ingles, and may now try this idea in department stores in other countries.
However, layout and shopping experience in El Corte Ingles's department stores can be patchy.
Groups of shop assistants often stand around chatting, paying shoppers little attention. While women shop assistants wear uniforms in blue, green and white and are called "Miss" even if married, only this month was uniform introduced for male shop assistants.
Some analysts think the hit-and-miss nature of the shoppers' experience has much to do with the company's family management culture. Chairman Alvarez, for instance, has not passed over the reins to an outsider, like Amancio Ortega did at Inditex.
With no presence in fast-growing markets abroad, the company has little choice but to fight to maintain market share at home. And with Spaniards getting poorer, the company targets tourists with a 10 percent discount card and selected stores offer welcome services to Chinese, Russian and Japanese shoppers.
The approach isn't impressing everyone yet, though. At Calle Preciados, where the 120-year-old brand began, two young tourists intended to buy some clothes seen in a window display but left the store without finding them.
"There were no clear signs. We went up an escalator and after a few minutes said: 'let's get out of here' - maybe there wasn't enough space or the right lighting," said Zarah Meehl, 28, from New Zealand. "And not a single person acknowledged us the whole time we were in there."
The pair have travelled extensively in North America and Europe and Meehl lives in London where she finds department store Selfridges offers a real experience, where individual departments are "practically works of art".
© Thomson Reuters 2023 All rights reserved.