Handbag maven looks to grow after Marvel-ous start
By Jon Cook
(Reuters) - A highly competitive industry, a failed startup on her resume and the worst recession in a generation didn't deter Jane Saidenberg from launching her handbag business.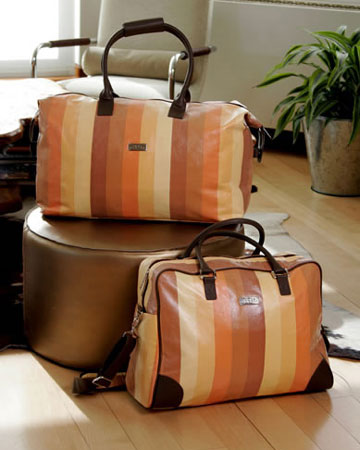 Jane Marvel (www.janemarvel.com)
A year later her Jane Marvel (http://www.janemarvel.com) line of "lifestyle" bags is going gangbusters, landing on the shelves of more than 300 stores from Alabama to Wyoming and racking up sales of $1 million along the way.
"I was in the entertainment business for many years, but I sort of had this inner crafty weirdness and I would do weird things like sew stuff until 3 or 4 in the morning," says Saidenberg, who is married to successful music producer Andy Marvel, who has penned hits for Celine Dion and Jessica Simpson. "My husband has been a great supporter. Our pillow talk has changed over the years from newlywed pillow talk to, 'so how are sales today Honey?'"
Saidenberg's first entrepreneurial foray was designing stylish laminated canvas storage boxes for baby toys and clothing, which later morphed into diaper bags and lunchboxes. Saidenberg, whose two sons were both still young at the time, was ultimately unable to make the profit margins work in her favor and was forced to shelve the business.
Instead of walking away altogether, Saidenberg took an exploratory trip to China in April 2007 to see if there was a way she could keep her dream alive. What she found was a factory where she could drastically lower her production costs and the inspiration to make a line of handbags for adult women.
"At the time handbags had gotten really expensive, so I thought if I can make this beautiful bag overseas and it only costs me this certain amount of money, I could actually retail a bag that was not a tremendous amount of money and certainly a lot less than what other people were selling their bags for," says Saidenberg, whose vegan-friendly bags (non-leather and made without any animal products or bi-products) are priced with the budgets of average working mothers in mind, ranging from $38-$145. "It's the kind of item you could walk into any apparel store and say that's not going to kill my credit card or take food out of my children's mouths."
By contrast, the iconic Louis Vuitton label markets a canvas bag collection that retails from $550 to $2,500.
The first prototypes for Jane Marvel were done by Christmas that year and instead of taking them around to stores, Saidenberg first tried selling them herself at a wholesale trade show in Atlanta in early 2008. Renting the space and setting up her booth cost roughly $6,000, but the validation she got was worth much more.
"It was really gratifying and gave me the impetus and confidence to forward," says Saidenberg, who took more than 100 orders and decided to go bigger with her handbags. "That's when I said 'OK, this is the amount of money I need to finance a production run."
Her first run cost $200,000, which Saidenberg mostly funded with a home-equity loan that "was just sort of idling for when we needed it and here it was."
Jane Marvel started shipping inventory last May and brought in its first revenues later that month. Since then it's been a whirlwind for Saidenberg, with her bags being showcased on Oprah and in every top fashion magazine.
Her line has expanded to 25 items, including overnight bags, carry-on bags, computer bags, "basically bags for all the different needs women have."
After having passed the $1-million milestone in sales earlier this year, Saidenberg is looking to expand the business beyond boutiques and specialty stores, to large national chain stores and possibly get into college campus apparel shops.
THE PITCH
Completely self-financed to this point, Saidenberg is seeking investors to provide an additional $500,000-$750,000 to take on bigger clients and fund a much larger production run. She is also looking at moving the business out of her home and into a new downtown Manhattan location.
"I'll be looking for funding, probably a bank loan and to speak to a venture capitalist (VC) and angel investors, who might be interested in the business," says Saidenberg. "The intention is to grow it to the point where it's a household name and potentially sell it."
TAKING IT TO THE EXPERTS
Tim Berry, the president and founder of Palo Alto Software (http://www.paloalto.com) and an adjunct professor of entrepreneurship at the University of Oregon, is impressed by Saidenberg's achievements in such a short time and feels she should hold off pursuing any outside investment from VC or angel groups.
"Her life changes if she gets investors," said Berry, who at one stage had a venture capital firm invest in his software company, before buying them out.
"They don't just write her a cheque and disappear. Now she has people who are tracking her performance and are unhappy if she misses her milestones and God help her if she wants to go in one direction and they want her to go in another, because then everybody is unhappy. It's very much like having a second marriage to deal with. You choose an investor for compatibility, as carefully as you would choose a spouse."
In his mind it makes more sense for Saidenberg to grow her business a little slower and avoid angels or VCs altogether if possible. This way she will have more freedom to do things her own way and to make mistakes.
"That's a very comforting reassurance, because sometimes it turns out that they weren't mistakes and you were right all along, but your investors would never have let you find that out," says Berry, who wrote "The Plan-As-You-Go Business Plan" and the co-author of "3 Weeks to Startup." "Jane has a real choice to make: it's conceivable that she could own this thing entirely by herself.
"It's higher risk and it's harder. When I brag that I own my company and it's a good company, I could also mention that my wife and I at one point had three mortgages and owed $65,000 in credit-card debt. If you make it through those dark woods things are pretty good, but you have to make it through those dark woods and I get the sense that that's what she's struggling with and she's right to wonder."
Berry says Saidenberg should keep in mind that any VC or angel investor she brings in will want three things: a healthy return on investment (ROI), minimal risk and an exit strategy. Typically an investor will be looking for an ROI that is 10 times their initial investment. They will also only invest if they are confident Saidenberg and her team has the ability to grow and sell the business within five years.
"If you want to write cheques to startup companies you want to believe that $500,000 has a fair shot at becoming $5 million in 3-5 years," says Berry. "She's got to be committed if she gets investors in. They need her to be able to be acquired in 3-5 years and that sucks sometimes for the founder."
Bruce Maxwell, who refers to himself as a "Venture CFO" and provides financial consulting services to startups and established firms, agrees that self-financing is likely the best option for Saidenberg, as during the current economic climate angel investors "have largely climbed into their bunkers and bolted the hatches."
Maxwell, who has raised nearly $70 million in venture and angel funds for various companies since starting Maxwell Consulting (http://www.brucemaxwell.com) more than 10 years ago in Los Gatos, California, says there is virtually no chance Saidenberg will be able to get any VC money for her handbag company. "They don't play there," insists Maxwell, "so don't waste your time trying to attract their interest."
Before becoming a consultant, Maxwell ran his own paging firm - Positive Communications - in the early '90s and grew it to more than 300 employees with annual revenues of $40 million. Since Jane Marvel's sales are healthy, Maxwell advises using her small profit margin to increase her working capital through each new round of sales.
"This is a slow way to grow, but in the current funding environment, it may be her only realistic option," says the Stanford MBA graduate who has taught classes in entrepreneurship at St. Mary's College in Moraga, CA. "If this proves to be the case, then she needs to jealously guard that profit margin and be very careful about investing in growth.
"Only grow where the deal has an attractive profit margin, and focus during these hostile times not on growth but on profit. When better times return, you will have a small war chest of working capital that you have amassed, which you can then risk on investment in your own expansion."
To tackle Saidenberg's goal of getting her handbags in larger retail chains, Maxwell suggests she outsource manufacturing sales representatives.
"They have the ability to get an appointment with the key buyer at the chain's HQ," which Maxwell says is something Saidenberg is unlikely to accomplish on her own. "They can walk right through a door that might remain closed to you for years."
Maxwell says the traditional approach that new firms use is to hire manufacturers' reps to crack the major retail chains and win initial distribution. "When you have established your brand and your line, and have a personal relationship with these buyers, you replace the manufacturers' rep firms with a small direct sales force of your own."
Maxwell would also like to see Saidenberg pare down the number of handbags she offers, because he feels they can't all be profitable.
"The key is to keep innovating, but ruthlessly prune the losers the minute it is apparent that they are not selling through," says Maxwell, who adds that the stores purchasing her products usually have the "sell-through information" and all Saidenberg has to do is ask for it. "Good information systems that can discern this information in close to real time pay for themselves many times over."
Josh Dorfman, founder and CEO of Brooklyn-based eco-friendly furniture store Vivavi (http://vivavi.com), likes Jane Marvel and finds Saidenberg "a terrific entrepreneur with a very clear vision," but would want a larger environmental commitment from her before investing.
"I happen to like her bags a lot, but I don't consider them to be eco-friendly," says Dorfman, who profiles half a dozen handbag companies in his book "The Lazy Environmentalist: Your Guide to Easy, Stylish Green Living." "As a green retailer, I would advise Jane to consider switching to green fabrics to make her bags. Being eco-friendly is first and foremost a materials choice. Jane chooses leather-free products, but leather-free is not the same as eco-friendly. Her bags are made of conventional canvas, presumably cotton, which is the most heavily sprayed crop on the planet."
Dorfman suggests Saidenberg switch to organic cotton, which might be more expensive, but will attract more "environmentally conscious" customers. "As consumers become savvier about green living and start asking more questions, they'll start to wonder why she says her bags are eco-friendly if they are made with fabrics that do not fully consider the environment."
Before starting Vivavi, Dorfman previously worked in China for Kryptonite Bike Locks and became very familiar with the factories there. "As a businessperson, I really don't see any other advantage to manufacturing in China aside from the ability to make products at low cost," says Dorfman, who doesn't have a problem with companies, like Jane Marvel, who have their goods made there, "provided that those products are made with environmental responsibility."
Saidenberg, who admits to being a little naïve in this regard, is planning to get more 'green' with her line going forward.
"When I started this process a year ago I didn't know what to ask for, so my first few runs were just whatever they (factory) sourced for me," she says, while adding things are getting better for more socially-conscious firms operating overseas. "I've seen a real conscious effort in China to making production more eco-friendly and we've been working with our factory to source organic cotton and canvases."
© Thomson Reuters 2023 All rights reserved.