Gold to rise to $1,700 in 2015
Apr 21- Gold's decade-long bull run could continue in the next four years, though at a slower pace, with positive inflation risks partially cooled by a shift towards more normal economic conditions, analysts polled by Reuters said on Thursday.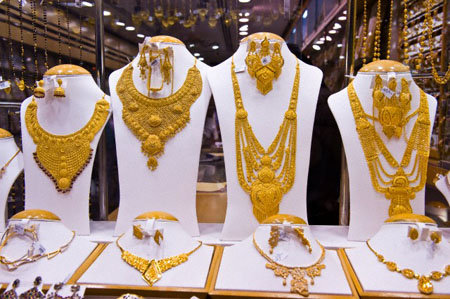 Ornate gold jewelry at the Gold Souk in Dubai
The median forecast of 12 analysts polled in the past two days for the average price in 2015 was $1,700 an ounce, up 12.7 percent from the record of $1,508 struck on Thursday.
The price forecasts ranged between $1,000 and $2,750, but even if prices get to the top of that range, they would probably rise at slower rates than in the previous two years, or increases of 30 percent in 2010 and 25 percent in 2009.
"Gold will be underpinned by sovereign debt in the euro zone, United States and Japan, as well as the dollar weakness and further reserves diversification by central banks," said Robin Bhar, an analyst at Credit Agricole.
But he added that those positive influences would be countered by a more positive global economic environment, implying "normalised" monetary policy and higher interest rates.
Gold traditionally benefits from a weaker dollar, times of political and economic uncertainty, and during periods of rising inflation. Prices have doubled since the lows of 2008.
In recent months, gold has rallied on the geopolitical uncertainties in the Middle East and North Africa, fears of high inflation in major developing economies including China, India and Brazil, as well as an earthquake and tsunami in Japan that caused huge losses to the world's third-largest economy.
"Much of the reasoning behind our bullish outlook lies with the uncertainty surrounding current events such as Middle East and North Africa unrest, growing inflationary pressure, burgeoning deficits and the longer-term effects of currency debasement," said James Moore, an analyst at FastMarkets.
"All of which will take considerable time to be felt or resolved, if ever." Moore expected gold to average $1,750 in 2015.

ASIA DEMAND TO UNDERPIN SENTIMENT
Growth potential in gold demand in India and China, the world's top two gold consumers, will provide strong support for prices, analysts said.
"The increasingly wealthy general public in China will be looking for places to store their value, and gold investment will continue to be one of the most popular choices," said Li Ning, an analyst at Shanghai CIFCO Futures.
India and China together consumed about 1,543 tonnes of gold jewellery, coins and bars in 2010, the World Gold Council says. This compares with the WGC's estimate of a total supply of 4,108 tonnes, including mine and scrap supply.
"In both countries, accelerating inflation has boosted gold's appeal, while negative real interest rates and poor equity returns have diverted liquidity into the precious metal markets," analysts at Standard Chartered Bank said in a research note.
"In terms of gold consumption per capita, there is no doubt that these countries have a lot of catch-up potential and the impact on gold prices could be dramatic."
They forecast gold prices to average $1,900 in 2015.
FADING FEAR TO WEIGH ON GOLD
Some analysts, including Credit Agricole's Bhar, foresaw prices much lower in 2015 than now, arguing that improving economic conditions globally will help take some speculative froth our of gold.
"I believe that gold will be below $1,000 an ounce in 2015," said Mark Luschini, chief investment strategist of broker-dealer Janney Montgomery Scott.
"By then economic conditions will have normalized, the speculative blow-out in gold that could drive prices higher in the next 3-6 months will unwind, and investors will come back to equities as the asset class of choice."
Technical analysis suggests gold follows an eight-year cycle, with prices likely to peak in 2012 at around $2,000, said Reuters market analyst Wang Tao.
But that sharp rise will be followed by a similarly sharp fall, and prices could retreat to $1,000 by 2015, said Wang.
(Additional reporting by Chikako Mogi, Jan Harvey, Siddesh Mayenkar and Frank Tang; Editing by Clarence Fernandez)

© Thomson Reuters 2023 All rights reserved.