Gold ATM offers convenience, not glamour, to India jewellery fans
MUMBAI - Teenage girls pose for pictures beside the latest arrival in Mumbai's modern Phoenix Mills mall -- a gold ATM machine selling jewellery and $600 gold coins -- but for more than just window-shopping, it faces stiff competition from traditional stores.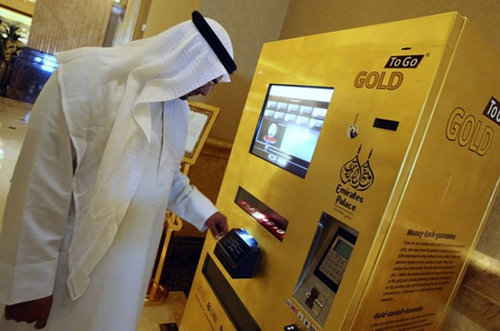 Gold ATM's are already in use in the United Arab Emirates
India's first such machine may be grabbing the attention of passers-by in the world's biggest bullion market, but upstairs in an air-conditioned store, the sparkling gold and silver bangles offered by smiling sales assistants have customers grabbing their credit cards.
"I'm sceptical about buying from the machine," says 26-year-old Shalini, a self-confessed jewellery addict.
"I suppose it's a good idea for people who might be in a rush, but it's just much more fun to go to a real shop, and it makes buying something more special," she says, standing next to the ATM in India's financial capital, her two gold loop earrings glittering.
India's obsession with gold and jewellery is legendary. The country consumed more than 900 tonnes of bullion last year, and demand looks set to stay strong with a growing middle-class and rising incomes, despite high prices that are hitting sales now.
Indian fund houses offer systematic investment plans (SIPs) in gold, alongside rising interest in gold-pegged exchange-traded funds. Many banks run television spots to sell accounts with the lure of saving up for wedding jewellery.
And now some of the glitz comes out of a machine.
"There is investment purchase in this machine, there is gifting in the machine and there is self-indulgence," says Sanjeev Agarwal, chief executive of Gitanjali Exports, which operates the machine.
"The sales so far have been very, very encouraging," said Agarwal, whose firm is a unit of India's largest jewellery retailer Gitanjali Gems Ltd (GTGM.NS). "On the first day of launch (earlier this month) we had some 28 transactions."
His modern answer to the rising demand is an automatic dispenser for diamond jewellery and products that range from a 10 gram gold coin for 31,000 rupees to a 20 gram silver coin for 1,400 rupees. The smallest gold coin on offer weighs a gram and costs the equivalent of $60.
The touchscreen is a world away from traditional stores, where customers spend hours deliberating on plush chairs, sipping piping hot sweet tea as they wave away or beckon closer an array of glittering products offered by an army of salesmen.
GOING GLOBAL?
Gitanjali hopes the automated teller machines, besides being far cheaper to run than a store, will allow the firm to reach a wider base of customers and offer a convenient way to purchase in a country that is fast-embracing modern technology.
The standalone golden box, slightly taller and wider than a normal cash ATM, stands next to an entrance of the busy mall, is protected against drills and guarded by remotely-monitored cameras that sweep its surroundings and internals.
Customers use a touchscreen to navigate the products on offer, which range from gold and silver coins to diamond earrings and pendants in different styles, and can pay with either credit cards or cash.
"About 15 years ago, when the banks launched ATM machines, there was a risk and there was an inertia," said Agarwal.
"Today banks report about 30 to 40 percent of their cash transactions through ATM machines, so people have become familiar with the concept, comfortable with the concept, and we hope to take benefit from that as well."
Gitanjali aims to roll out 75 of the automated machines over the next three years, in airports, shopping malls and at religious sites, as Indians often like to take home a memento of their visits.
But not everyone is convinced of the allure of the ATM, which adjusts its prices in line with global gold rates and does not offer personalised or customised products.
"Here you have to pay in advance, you pay it all in full," said Abhijit Kumar, a 36-year-old businessman from Mumbai.
"In a store they give you credit, or you pay over time."
Yet if a request for the firm to take the technology to Singapore's Changi airport is a sign of things to come, Gitanjali's gold boxes might start cropping up all over the world.
"We are open (to export opportunities)... There have been a number of enquiries," said Agarwal.
"I think the primary interest will come in from South East Asia as well as the Middle East, but I am not ruling out other markets as well."
Gitanjali Gems, valued at almost $600 million, plans to invest 2 billion rupees during the financial year to March 2012 to add 350 to 400 new stores across India. It opened 300 outlets in the 12 months to March this year.


By Henry Foy and Siddesh Mayenkar
(Editing by Jo Winterbottom and Clarence Fernandez)
© Thomson Reuters 2023 All rights reserved.