Global Luggage and Leather Goods Market - Opportunity in Developing Regions
In recent years demand for luggage and leather goods industry has grown, so as competition in the market. It has become one of the fashion statements for women; they prefer designer handbags, laptop bags and travelling bags etc which has turned their focus towards high end brands such as LVMH and other competing on the same platform.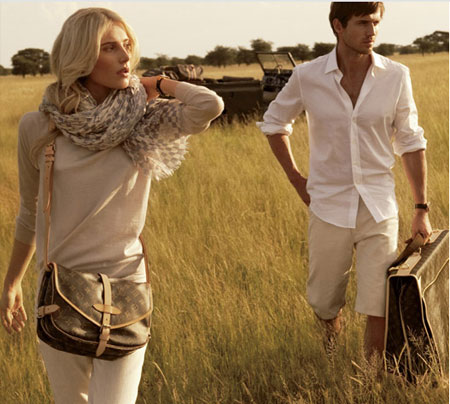 www.lvmh.com Photo: Smith Carter
Global luggage and leather goods industry has been hit by the recession in 2009 but from mid of 2010 onwards situation is expected to be controlled. Also demand for travel bags depends upon the growth of travel industry of a particular region. Bags, wallets and purses dominate the demand, of total luggage and leather goods industry. Further it is expected that in the near future the growth of luggage industry will go slow (2008-2013) due to external industry factors and reach to US$- billion in 2013.
Global Market In five years review 2004-2008, global luggage and leather goods industry showed an upward trend and generated US$- billion total revenue in 2008 with a CAGR of 4.85% (2004-2008) while it was negative in 2009.
India and China
* In India, in 2009 the market size for the organised sector was approximately US$-million whereas the unorganised sector has grown at a healthy rate and registered a market size of US$-million.
* In India, The premium segment is the one which is experiencing growth and is expected to grow at 30% during 2010 Companies are channelizing their marketing strategies in this segment to reap the benefits from the premium segment.
* India is traditionally being considered a hard luggage market; still the segment has witnessed a negative growth of 10% - 15%. On the contrary the soft luggage segment has grown by -% - -% since the customers are preferring aesthetics and variety.
* The biggest country producing and exporting bags in the world is China. China accounts for -% - -% of the share of the bags supplied in the International market. Small and midsize companies constitute the luggage and travel goods industry in China.
European Union
* After Asia, European Union (EU) is one of the prominent markets for luggage and leather goods with a consumption of more than US$- in 2008 with Germany accounting for highest share followed by France, Italy, United Kingdom and Spain.
* The imports of luggage and leather goods increased during 2004 and 2008 among all the European countries. With a value of US$- billion, China was the largest supplier to EU.
* EU dominates the world market in producing leather goods. Italy and France are the two countries which have some of the World famous leather goods brands.
* The handbag market in EU in 2008 was more than US$- billion. The prominent countries were Italy, France and Spain. The handbag market has grown over the years because of the demand by women who normally posses different handbags for different occasions.
* In Suitcases, travel and other bags (luggage) category, EU 27 accounted for a value of US$- billion in 2008; also the prominent markets were Germany Netherlands and Belgium.
* In 2008, the market value of luggage and leather goods in Germany was valued at US$- billion. The German market witnessed an increase of 2.9% year on year basis since 2004. With a value of US$- million in 2008 in production of luggage and leather goods, Germany represented a 3.7% of the value of all EU production and there was a fall from a share of 4.2% in 2004.
* Austria is a very small producer of luggage and leather goods in EU with a 0.3% of total EU production. The production value decreased from US$- million in 2004 to US$- million in 2008
United States
* This market generated US$- billion of revenues in 2008 with a compound annual growth rate (CAGR) of 7.27 % from 2004-2008; higher than Asian and European market growths.
* In terms of market competition, Coach Inc. accounts for the highest share of the total Luggage and leather goods industry in 2009; while Samsonite Corp stands on second place with 20% of market share and Wilsons The Leather Experts on 10% market share in the same year.
* The United States accounts for -% of the global luggage and leather goods market's value in 2009, which was -% in 2008; as compared to Europe accounting for -%.
The present report talks about trends and opportunities in the luggage and leather goods industry with detailed description if India, China, European Union (Germany, France, Austria, HongKong) and United States. It also highlights recent trends prevailing in the market with changing consumer preferences. This report and discussed production, consumption and import of luggage bags in various regions. At the end profiled major players in the market (Samsonite Corp., LVMH and Coach Inc.) with business description, financials and key developments.
Source: www.researchandmarkets.com
Copyright © 2022 FashionNetwork.com All rights reserved.