Germany still mulling options for Quelle
BERLIN, June 24 (Reuters) - A German government committee is considering a variety of aid options for the Quelle mail order unit of retailer Arcandor (AROG.DE), including guarantees and a direct loan, a government source said on Wednesday 24 June.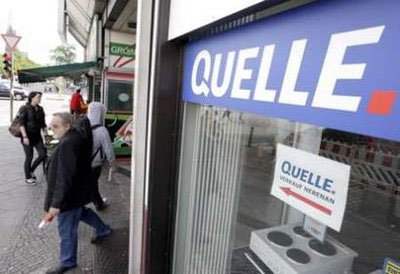 Photo: REUTERS/Thomas Peter
On Tuesday 23 June, the Financial Times Deutschland newspaper had reported that the committee was against giving Quelle a state loan guarantee of some 50 million euros ($69.29 million).
But the government source said the question was still open, and that the committee was discussing different possibilities, including a direct loan from state-bank KfW.
"We are going to take another look at various models," the source, who requested anonymity, told Reuters. "Is a loan guarantee a better instrument or is a (direct) loan better -- that is the key question."
The source said it was not clear whether a decision would come on Wednesday 24 June or later in the week.
The Financial Times Deutschland and Sueddeutsche Zeutung said in separate reports on Wednesday 24 June that the German state of Bavaria, where Quelle is based, was looking into helping it out with loans of its own, should the federal government balk at giving guarantees.
The newspapers cited people familiar with talks between the state and Quelle, which is headquartered in the Bavarian town of Fuerth.
Its parent Arcandor, which owns the Karstadt chain of department stores and a majority stake in UK-based travel group Thomas Cook (TCG.L), filed for insolvency earlier this month after the government rejected two successive appeals for state aid.
Arcandor's priority now is to shore up Quelle, which needs cash to publish its new catalogue for the fall/winter season and order new goods.
Arcandor Chief Executive Karl-Gerhard Eick wants to save the company with a structured insolvency, keeping all three business areas.
(Reporting by Gernot Heller and Ludwig Burger, writing by Brian Rohan and Noah Barkin; Editing by Hans Peters)
© Thomson Reuters 2023 All rights reserved.