German retail sales fall unexpectedly in February
BERLIN - German retail sales fell unexpectedly in February, down 1.1 percent on a monthly basis in real terms, denting hopes that private consumption will support Europe's largest economy in the first quarter.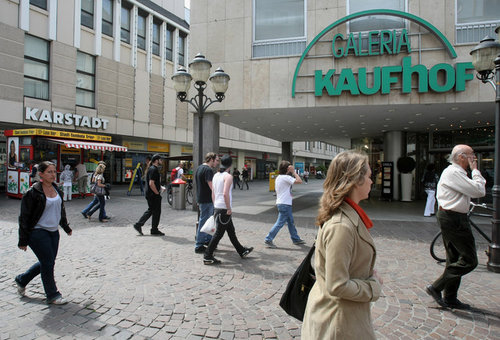 Photographer: Ralph Orlowski/Getty Images
The notoriously volatile indicator has fallen four out of the last five months, contrasting with expectations for retail to hold up well in the light of a robust labour market. Economists polled by Reuters had forecast retail sales to rise 1.2 percent on the month.
"The trend has been weak for a while now, which is most certainly down to the fact that households still do not believe in a sustainable solution to the euro zone crisis," said Christian Schulz at Berenberg Bank.
"The fall in unemployment still does not seem to have had a sustainable impact on purchase behaviour, which is astonishing given that all the conditions are good, with interest rates rock bottom," he added.
Retail sales were up 1.7 percent on an annual basis, partly thanks to the extra day in February 2012, beating a consensus forecast for a gain of 0.1 percent.
January retail sales were revised upwards to a fall of 1.2 percent on the month, from a previously reported decrease of 1.6 percent. On an annual basis sales were also revised up, to a gain of 1.7 percent from a 1.6 percent gain.
Germany's economy recovered quickly from the global financial crisis of 2008/09 but shrank by 0.2 percent at the end of last year as the euro zone's debt troubles and a global slowdown took a toll on exports and private consumption.
The economy has seemed to pick up slightly this year, leading some institutes to hike their growth forecasts and many economists to predict stable or rising output in the first three months of 2012, thereby avoiding the two successive quarters of contraction that define a recession.
A strong labour market has helped prop up consumer confidence, which has risen six out of seven months according to market research group GfK. The jobless rate dropped to a new post-reunification low of 6.7 percent in March.
DOWNBEAT RETAILERS
Yet consumer morale unexpectedly eased heading into April and German retailers have been relatively downbeat about the outlook for this year, a worrying sign given that many economists hope domestic demand will support the economy at a time when foreign demand for exports is uncertain.
Fashion house Hugo Boss AG said this month sales growth will halve this year, cooled by a likely slowdown in Chinese demand for designer labels, while Metro, the world's fourth-largest retailer, has forecast flat profits.
Economists said rising oil prices was one factor unsettling consumers.
"The uncertainty due to high oil prices will most probably continue for a while as we are heading into the holiday weeks when petrol prices generally rise," said Stefan Schilbe of HSBC Trinkaus. "They reduce purchasing power."
He added however that it was not yet time to write off private consumption: "The labour market is in excellent form and wage negotiations seem likely to result in relatively high wage hikes."
Falling unemployment has emboldened trade unions to demand higher wages after years of restrained pay growth which boosted Germany's competitiveness and helped cut joblessness.
The Verdi and IG Metall unions are both asking for 6.5 percent wage rises for some five million workers in total.
Germany's HDE retail association on Thursday reiterated its forecast for nominal sales growth of 1.5 percent for the full year.
© Thomson Reuters 2022 All rights reserved.