Furry jackets and femininity stalk London's catwalks
LONDON - Designers Vivienne Westwood, Paul Smith and Matthew Williamson led the fashion pack on the catwalks in London late on Sunday, mixing the baggy and bright with muted colors and tailored elegance for the feminine form.
The grand dame of eclectic British fashion, Westwood showcased tribal print designs of bright oranges, military camouflage greens and yellows. Models adorned with tattoos and dressed in baggy jodhpur-like trousers strutted on a long looping catwalk at day three of London Fashion Week.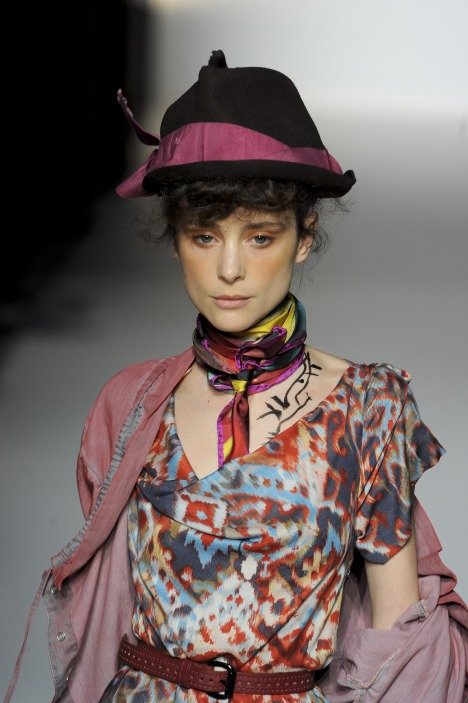 Vivienne Westwood Red AW 2012/13 - Photo: Pixel Formula
"The Red Label collection I've been doing the longest, and all my collections but especially this one, are always very British. You have got these really fantastic clothes that are really very flattering and also very lively because it's got all this influence from other places," Westwood told Reuters.
Smith showcased a subtle collection of sharp tailored pieces in muted violet, forest green and teal colors, that mixed tweed and woolen jackets with soft velvet trousers and colour-paneled cashmere sweaters.
"I wanted to do things I felt very comfortable with. And what I feel comfortable with and what a lot of people know me for is my tailoring and without being swell-headed, that's what I feel I'm good at," the designer told Reuters.
"It's very much about tailored garments but also giving them a femininity, so adding shape to the waist, respecting the female form."
"I've never really been brave enough to show (femininity) in a show before, I always felt I wanted to stick more with my typical androgynous look. But I pushed it more this time and so far it seemed like it worked."
Luxury accessories label Mulberry attracted U.S. Vogue Editor Anna Wintour, actresses Michelle Williams and Elizabeth Olsen and American socialite Olivia Palermo to show inspired by Maurice Sendak's book "Where The Wild Thing Are."
Giant furry jackets, dogs on the catwalk and brightly colored handbags accompanied the announcement of its latest signature handbag: the Del Ray, inspired by singer Lana Del Ray, who was on hand.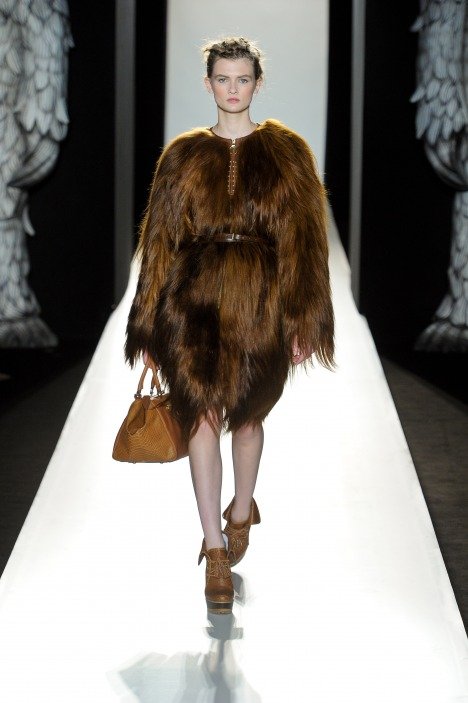 Mulberry AW 2012/13 - Photo: Pixel Formula
Williamson delivered long flowing gowns with decorative patterns and jeweled embellishments at a show also packed with the fashion world's top insiders.
The designer told Reuters that his collection was based on a Russian artifacts theme, which relied on ornate detail to make the dresses work.
He said this year was a big one for London to show off its excellence with the Olympic Games and the queen's diamond jubilee celebrations.
"I think fashion is no exception, the spotlight is on the city of course this year," he said. "It's my hometown as well, so I'm a big fan of showing here."
(Reporting By Li-Mei Hoang, editing by Paul Casciato)
© Thomson Reuters 2023 All rights reserved.