French heiress in legal spat refuses mental exam
PARIS (Reuters) - The elderly French heiress to the L'Oreal fortune has refused to take court-ordered psychological tests to determine whether a photographer extorted her for gifts worth 1 billion euros (900.3 million pounds), her law firm said on Thursday 24 December.
Liliane Bettencourt, 87, is one of the world's richest women. For several years she has lavished cash, property and artwork on her close friend, celebrity photographer and socialite Francois-Marie Banier, 62.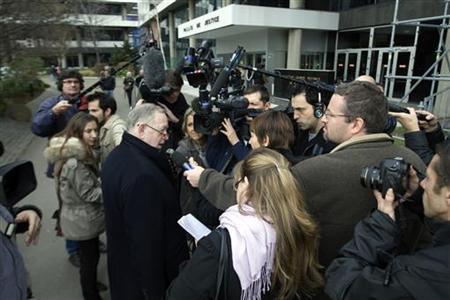 Her daughter, Francoise Bettencourt-Meyers, accuses Banier of taking advantage of her mother's frailty and has been fighting for two years to have him charged with "abuse of weakness," against her mother's will.
Bettencourt, meanwhile, maintains she was in full possession of her wits when she lavished staggering sums on Banier.
At a hearing this month to examine whether Bettencourt-Meyers' allegation was enough to bring Banier to trial, the judge ordered Bettencourt to submit to neurological and psychological tests.
"I confirm to you that Liliane Bettencourt refuses this test," said a member of Georges Kiejman, her law firm, confirming an article in French daily Le Figaro.
Experts are required to produce a report on her mental faculties by March 10. A trial has been called for April 15-16. Prosecutors had been reluctant to take up the case partly because Bettencourt has repeatedly refused to submit to an independent examination of her mental health. Both Bettencourt and her daughter are major shareholders and board members at cosmetics giant L'Oreal, though they are not on speaking terms. The scandal has caused a commotion in the French media, which portray Bettencourt as a lonely widow hooked on her friendship with the dashing Banier and helplessly giving in to his increasingly outrageous demands. (Reporting by Sophie Taylor; editing by Robin Pomeroy)
© Thomson Reuters 2023 All rights reserved.