French designer Lacroix seeks creditor protection
PARIS, May 28 (Reuters) - Loss-making French fashion house Christian Lacroix has filed for creditor protection, hit hard by the global collapse in consumer spending, it said on Thursday 28 May.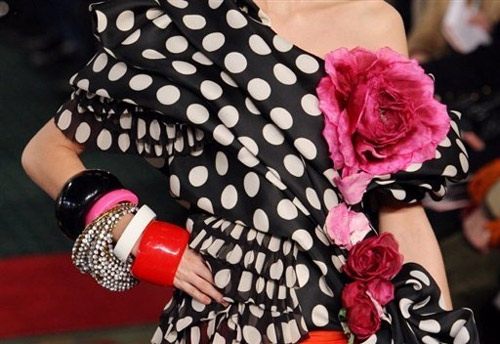 Photo : Patrick Kovarik/AFP
The fashion house, known for its coulourful baroque-style dresses, said it hoped to continue to operate by getting court permission to go into administration and strike a deal with its creditors.
Christian Lacroix moved into more upmarket ready-to-wear just as demand for luxury fashion was weakening and has suffered from a severe drop in U.S. department store sales, on which it relied heavily.
The company, which has never made a profit since it was founded 22 years ago, belongs to the Falic family, owner of the U.S. duty retailing group Duty Free Americas.
The Falics, who acquired the fashion house from luxury group LVMH (LVMH.PA) in 2005, have been seeking a partner or buyer for Christian Lacroix for more than a year, but have failed to strike a deal.
"This process, which was in its final phase, has also been hit by the financial crisis and could not be concluded within the necesssary deadlines," Christian Lacroix Chief Executive Nicolas Topiol said in a statement.
"The company hopes to complete the (legal) procedures quickly and continue to develop the brand."
In 2008 Christian Lacroix made a loss of 10 million euros ($13.88 million) on revenues of 30 million euros while orders for its 2009 women's ready-to-wear summer collection are down 35 percent, it said. ($1=.7207 euros) (Reporting by Astrid Wendlandt and Pascale Denis; Editing by Greg Mahlich)
© Thomson Reuters 2022 All rights reserved.