French court says Bettencourt guardian request invalid
June 20 - France's Appeals Court ruled on Monday that a request to appoint a guardian to oversee the business affairs of L'Oreal heiress Liliane Bettencourt was invalid, despite a recommendation in favour by doctors.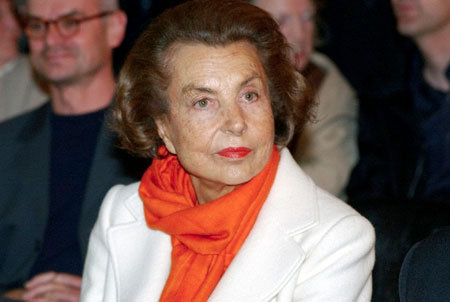 Liliane Bettencourt (Photo: Corbis)
The court found that the request for a guardian by Francoise Meyers-Bettencourt, the daughter of the 88-year-old billionaire and key L'Oreal shareholder, could not be acted upon because she had withdrawn it during a legal truce.
The ruling on a technicality leaves open the question of whether there are valid grounds for appointing a guardian to supervise Bettencourt, ranked by Forbes as the world's 15th-richest person.
Mother and daughter declared a truce in their long-running legal feud in December, during which Meyers-Bettencourt withdrew her request to have her mother placed under the supervision of a guardian and the two made a show of unity.
But the dispute has since reignited, with Bettencourt telling weekly newspaper Le Journal du Dimanche recently that her daughter needed to seek psychological help.
Doctors advised appointing a guardian last week, saying Bettencourt was suffering a decline in her mental faculties.
But the court ruled that it could not act on that request given that the case which sparked the medical examination in the first place was dropped during the short-lived truce.
Meyers-Bettencourt made a ward-of-court application in 2010, alleging that her mother was being swindled by a friend, society photographer Francois-Marie Banier. Meyers-Bettencourt has since withdrawn the application regarding Banier, legal sources said.
In December, mother and daughter said they had buried the hatchet, ending a three-year estrangement. But their fight flared up again last week when Meyers-Bettencourt said her mother continued to be manipulated by members of her entourage.
The Bettencourts hold a stake of nearly 31 percent in L'Oreal and the dispute has raised questions over the long-term solidity of the family as a core shareholder of the cosmetics giant. The case also sparked a political funding investigation last year.
(Reporting by Thierry Leveque, editing by Mark Trevelyan)
© Thomson Reuters 2023 All rights reserved.