France close glorious football chapter
By Patrick Vignal
VEVEY, Switzerland (Reuters) - France turned the page on a golden era in traumatic fashion when a 2-0 defeat by Italy sent them out of Euro 2008 with just one point and one goal from a calamitous group stage run.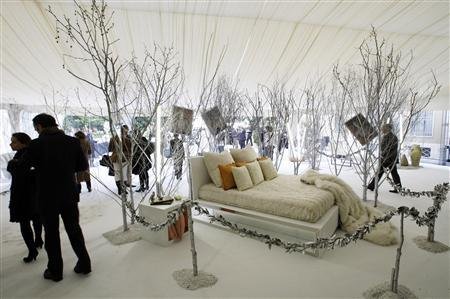 Everything went wrong for Les Bleus, who lost key player Franck Ribery through injury 10 minutes into Tuesday's game in Zurich before having defender Eric Abidal sent off when he gave away a penalty midway through the first half.
Two years ago France lost to Italy on penalties in another match full of drama, notably Zinedine Zidane's infamous headbutt on Marco Materazzi, but that was in the World Cup final.
The fact that defender Lilian Thuram was left out of the Zurich match and announced afterwards he would no longer play for France provided a symbol for the end of a glorious decade.
Thuram was the only player in the current squad to start in the 3-0 World Cup final win over Brazil 10 years ago. He was also there when they beat Italy in the Euro 2000 final two years later and also featured in the 2006 Berlin showdown.
Coach Raymond Domenech was counting on Thuram and a few more seasoned warriors to help a handful of exciting newcomers, such as 20-year-old striker Karim Benzema, burst into the limelight.
It did not work out partly because the stalwarts looked their age or, like captain Patrick Vieira who failed to shake off a thigh injury, could not play at all.
Domenech, who now faces a struggle to keep his job, defended the team for never giving up in difficult circumstances and said he believed they had a future.
NO EXCUSES
But others said France, playing a major tournament without Zinedine Zidane pulling the strings in midfield and Fabien Barthez protecting the goal for the first time since their 1998 World Cup triumph, had simply not been good enough.
"What a waste," said fullback Patrice Evra. "A great nation like ours, with all the talent we have in our team, should not be making a first-round exit. You can talk about the penalty, the sending off or Ribery but that's just match details.
"We have no excuses because we had put ourselves in that situation," he added, referring to a dismal 0-0 draw with Romania and 4-1 thrashing by the Dutch that left France needing to beat Italy to stand a chance of making the last eight.
Media reports suggested the atmosphere in the France camp had been tense between youngsters eager to prove their worth and veterans reluctant to leave the stage but Evra disagreed.
"That's wrong, the atmosphere was great," he said. "We should apologise to everyone. When you can't win a single match, you don't deserve to qualify."
France must now start the rebuilding process and look towards the 2010 World Cup in South Africa where Ribery, now 25, should be at his prime while Benzema, fellow 20-year-old Samir Nasri and hopefully a few other youngsters could shine.
Who will guide them next remains to be seen but Willy Sagnol defended Domenech recalling that the uncompromising coach had defied the odds by taking France to the 2006 World Cup final.
"He can't be blamed for our shortcomings," said the France fullback. "He did everything right two years ago and you can't say he did everything wrong this time."
(Editing by Ken Ferris)
© Thomson Reuters 2023 All rights reserved.