Foreign brands widen London super-prime retail map
LONDON, Aug 22 (Reuters) - Top-tier global retailers are driving an expansion of London's swanky West End shopping district ahead of the 2012 Olympic Games, leading to fierce and expensive rivalry for stores on the fringes of Bond, Regent and Oxford Streets.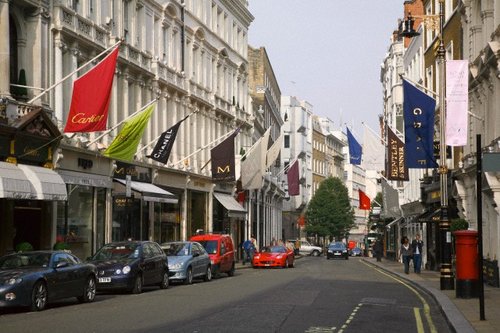 Luxury shops on Bond Street
"There's a gradual expansion of what I would call those super-prime locations for luxury retailers," said Grosvenor's director of London estate, Giles Clarke, whose folio includes chunks of retail hotspots Mount Street and Motcomb Street.
Locations experiencing a surge in demand from foreign high-end retailers include Bruton Street, where French fashion brand Isabel Marant paid key money of 750,000 pounds ($1.2 million), and Marylebone High Street, where Parisian retailer Sandro set up shop after paying key money of more than 700,000 pounds.
Key money is the sum a retailer pays to an existing tenant for the agreement to move out so they can take over the store.
"Retailers are paying significant premiums to get into the right locations ... (and) one of the consequences of that is that some of the retailers are being squeezed slightly into more traditionally peripheral streets," Clarke said.
Many retailers see the July 2012 Olympic Games as a trading boon, driving heavy footfall in London, whose glitzy retail areas have made it one of the world's fashion capitals , alongside New York, Paris and Milan.
Credit card company Visa estimated tourism would add 750 million pounds to consumer spending during the seven-week period encompassing the Olympic and Paralympic Games.
U.S. homeware brands Williams-Sonoma and Crate & Barrel are among those eyeing shop openings in London, after retailers such as Liz Claiborne Inc.'s Kate Spade, Limited Brands Inc's Victoria's Secret, Polo Ralph Lauren Corp.'s Rugby have taken stores in the last 12 months.
European companies looking for store space include Swedish underwear company Bjoern Borg and UK brand Burberry .
"Two years ago you got premiums (on Mount Street and Marylebone High Street) but you might have gotten 100,000 pounds, 200,000 pounds in key money for a lease," Cushman & Wakefield's head of London retail , Peter Mace, told Reuters.
"What you're seeing is that levels of key money which used to be reserve for the likes of Bond Street, Sloane Street, are now being paid for what are viewed as upper secondary locations," Mace said.
RENTAL UPTICK
Analysts spoken to by Reuters named South Audley Street, Dover Street, Carlos Place, parts of Davies Street and Brompton Road among areas that could see rents and key money pushing higher on the back of growing interest from luxury retailers.
Zone A rents for Davies Street and Carlos Place were about 150-200 pounds a square foot, and could rise to more than 300 pounds by end-2013, said Clarke, who manages parts of both streets.
Capital & Counties said rents at its Covent Garden retail hotspot "offered considerable scope for growth over the coming years." Average Zone A rent there was about 390 pounds sq ft, against a comparable basket of high-quality central London retail locations of 640 pounds sq ft.
Mace said Cushman & Wakefield was speaking to at least 50 international retail brands looking to open stores in London, more than half of which were eyeing their first shop openings in the UK capital.
Such a search for new retail locations follows record rents and premiums paid on Bond Street and Oxford Street, the latter of which saw U.S. apparel chain Forever 21 pay HMV about 14 million pounds' key money for access to a 35,000 sq ft store.
"It's the result of very strong demand and little supply," Savills retail director Anthony Selwyn said, citing robust foreign demand for the space-starved neighbourhood.
"Remember that we're not the only agents ... There's probably at least 100, 130 international retailers that are looking to either open more stores or to open their first stores in London," Mace said.

($1 = 0.603 British Pounds)

(Editing by Andrew Macdonald / Reporting by Brenda Goh)
© Thomson Reuters 2023 All rights reserved.