Fly fishermen, fashionistas fight over feathers
For the first time in 40 years, Philip Greenlee cannot obtain the choice feathers he ties into fishing lures to tempt trout from the West's blue-ribbon streams.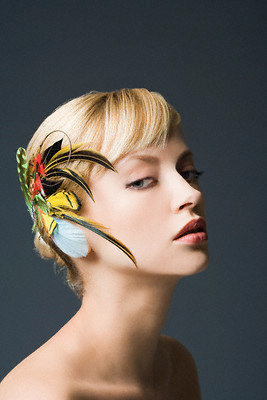 Woman wearing feather decoration in hair
A new nationwide trend of attaching feathers to hair, known as feather extensions, has spurred a run on the decorative plumage of designer roosters produced at just three farms in the United States.
Until this year, the long, skinny and spine-free feathers were the almost exclusive province of fly-fishing devotees. Now the multibillion-dollar beauty industry is hawking feather extensions, triggering a shopping frenzy that has pitted fishers against fashionistas.
Hair stylists are snapping up feathers at a rate that has exhausted stocks at fly fishing shops at the peak of trout fishing season from the Rockies to the Appalachians.
In the laid-back and historically genteel culture of fly fishing, throngs of feather-seeking, cash-flashing hairdressers are causing consternation.
"We've got these blond gals attaching feathers to their hair, we've got people from California and Colorado calling us; it's like we're sitting on a pot of gold," Duane Schreiner, owner of Bighorn Fly and Tackle in Montana, told Reuters.
Since January, demand for the specialty feathers - a fad fanned by the stars of TV series such as "American Idol" and "Glee" sporting the extensions - has left anglers high and dry even as it has boosted profits for farmers who raise the fowl.
BAFFLED CHICKEN FARMERS
Prices for some packages of the distinctive feathers, known as hackles, have soared from $60 to $400 as supplies have dwindled for a product that takes roosters one year to grow.
A hackle of black and white stripes, or grizzly, is most sought after by both the beauty and sporting goods industries. Salon operators say clients prefer the striking pattern, which is also prized by anglers for its buoyancy and resemblance to insect wings.
Greenlee, president of the Federation of Fly Fishers, an international nonprofit in Montana, said the craze threatens the time-honored tradition of crafting lures, or fly tying.
The lures, or flies, rely on feathers perfected over decades of selective breeding, and imitation mayflies and other aquatic insects favored by cold water fish.
Feather extensions, which can hold up for weeks amid routine washing and styling, range from $8 to $15 per feather.
Hana Johnson, president of Hair Flairs, a Florida company that distributes feathers and other beauty products to salons in the United States and Canada, said she has sold a million feathers so far this year. That compares to 3,000 in 2010.
"We've been spinning our little feather wheels like hamsters since day one," she said. Hair Flairs has already bought the bulk of feathers that will be produced in 2012 by Bill Keough at Keough Hackles in southwest Michigan.
Keough said he is as surprised as anyone to find himself at the head of a hairstyling movement.
"I'm not a trendsetter, I'm not a hair fashion designer, I'm a chicken farmer," said Keough, who raises about 25,000 roosters with the desired hackles.
Keough welcomes the growth of the one-time niche market but is stung by the criticism of animal activists, who dislike the practice of euthanizing birds to harvest their feathers.
Keough said the roosters must be pampered to produce champion plumage, which is why they are fed by hand and some flocks range freely.
"I've spent 37 years of my life taking care of them; they are my pride and joy," he said.
By Laura Zuckerman
(Editing by Dan Whitcomb and Greg McCune)
© Thomson Reuters 2023 All rights reserved.