Financial crisis helps Berlin take root for fashionistas
Berlin is slowly but surely establishing itself as one of the top global catwalks for the bold and the beautiful of the world of high fashion – and the global financial crisis seems to be doing nothing to slow it down.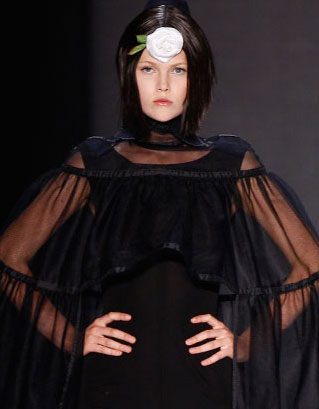 A Pablo Ramirez creation at the Mercedes-Benz Fashion Week Berlin Spring-Summer 2010 - Photo: Mercedes-Benz
For the fifth time, up-and-coming fashion designers are meeting in the German capital to present selections from their latest collections at the Berlin Fashion Week, which is attracting increasing interest from the international fashion scene.
Maia Guarnaccia, vice president at IMG Fashion Europe, which organises the fashion week in Berlin as well as similar events in New York, Miami and Amsterdam, said last year marked a turning point for Berlin.
"Since July (last year) people are now calling us to be here," he said, adding that it used to be the other way around.
"Berlin still is an oasis," Guarnaccia said. "Because it is more accessible" than other fashion capitals like Paris, London or Milan, where the cost of living as well as production and rents are a lot higher, he said. This, he said, attracts young designers especially in a time of global economic recession.
"People get more creative in times of a crisis," he said, having also worked for British fashion designer Vivienne Westwood in the past.
One of the fast-rising stars is designer Pablo Ramirez. Born in Buenos Aires in 1971, Berlin marks one of his first international shows.
"Berlin is another important door to Europe," Ramirez said after the show. He was invited to come to Berlin after winning top fashion awards in Argentina. "I'm very nervous and excited," he said.
His summer 2010 collection featured mainly elegant black dresses and suits and was accompanied by almost melancholy sounding strings.
It was followed by a bright, colourful and upbeat show by South African designers Jacques van der Watt and Danica Lepen with their Black Coffee label — which featured red, blue and red silky smooth wrap-around dresses adorned with golden laces.
A few minutes walk away from the main venue, another show launched in a big white tent set up at the heart of the city, next to the opera house. The German natural clothing brand Hessnatur show is the latest collection with other ecological designers in several rooms of Berlin's famous Adlon Hotel.
Hessnatur was founded more than 30 years ago by environmentalist Heinz Hess and won over designer Miquel Adrover as creative director in 2007. Hessnatur decided to show in Berlin after his gig at last year's the New York Fashion Week triggered a wave of media interest. "Requests have risen brutally," said Chief Executive Wolf Luedge.
Why so busy? Well, actress Julia Roberts recently ordered some clothes for her next movie and Vogue just did a photo shooting with Cameron Diaz wearing Hessnatur's frocks.
While the future looks bright for the company, there is still a great deal of uncertainty. Hessnatur is part of German retail and tourism group Arcandor which filed for insolvency last month.
Luedge could not say what would happen to his company now, but said: "Hessnatur will come out of this one unharmed. I am not worried. Not at all."
IMG's Guarnaccia added more optimism. Berlin would make its way, he said: "The success will be a blend of German brands, established designers and newcomers."
By Eva Kuehnen
© Thomson Reuters 2023 All rights reserved.