Fashion week stalled sans fire permit
By David Lalmalsawma and Urvashi Sibal

NEW DELHI (Reuters) - All shows on the first day of India's biggest fashion event were cancelled on Wednesday 24 March after organisers could not furnish mandatory fire safety permits.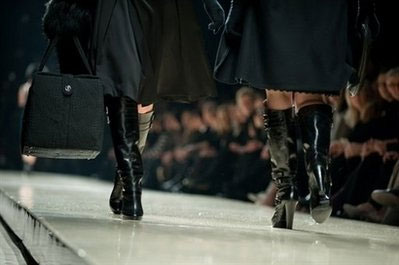 Photo: AFP
Authorities had put up huge tents at an exhibition complex in New Delhi where 130 designers were to showcase their autumn/winter collections during the five-day Wills Lifestyle India Fashion Week.
Hundreds of people were waiting for the much delayed opening show when organisers announced the cancellation of the day's schedule after police officials didn't allow the show to go on.
"They don't have a no-objection certificate from the Delhi Police which is given after a clearance from the fire department," Delhi's chief fire officer R.C. Sharma told Reuters.
"We sent a team in the morning but they were not complying with the standards."
Designer Nida Mahmood, who was supposed to open the fashion week with a street typography and scrap-inspired collection, said she was upset and disappointed when her show was delayed and then cancelled.
"I was backstage with my models. I really don't know what happened," she said.
Sunil Sethi, president of the Fashion Design Council of India which organises the fashion week, told reporters the day's shows had been called off. But there was still no word on whether the event would resume on Thursday 25 March.
"I don't think anyone knows right now," said designer Tarun Tahiliani. (Editing by Tony Tharakan)
© Thomson Reuters 2023 All rights reserved.