Fashion queen Furstenberg works for her children
May 25 - Designer Diane von Furstenberg, famous for her floral prints and wrap dresses, is developing a perfume, a cosmetics range and a home line in a bid to rebuild a fashion empire she can pass on to her descendants.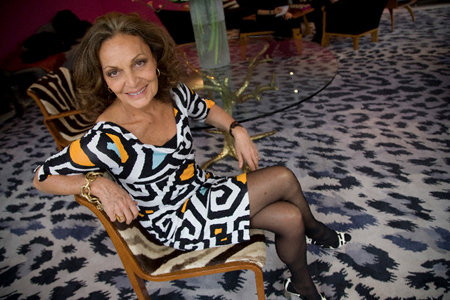 Fashion Designer Diane von Furstenberg
The designer, who bought back her own brand in the late 1990s after it went dormant with license-holders, told the Reuters Global Luxury and Fashion Summit her company was growing healthily, generating an estimated $1 billion in annual sales.
"I want to leave a legacy, something behind ... I want to leave something that will last after me," Furstenberg told the summit in Paris.
"Already my granddaughter wants to be me and is better than me," Furstenberg said.
The designer, who is also president of the Council of Fashion Designers of America, said she had given the company to her daughter and son but retained effective control through golden shares.
Furstenberg was in Paris to prepare the September launch of her perfume called "Diane." She teamed up with a little-known French company called ID Beauty which will also develop her cosmetics line.
"I went with a small company because I thought they would work really hard for me and they're very good in skincare," she explained, sporting an iPad with a leather cover based on her very first print.
She said she expected the skincare line to be launched possibly as early as next year.
In addition, she planned to add furniture to the home range.
But while she was building the business, she said she was also preparing it to grow on its own.
Last year, Furstenberg said she hired as the fashion brand's creative director Yvan Mispelaere, who previously worked at Prada, Chloe, Valentino and Gucci. She said she was very satisfied with her choice.
"When you hire a creative director, it is like marriage, it is a total lottery but I congratulate myself for my choice. He understands what the brand is about," she said.
Furstenberg put in the executive seat Paula Sutter who used to work at Donna Karan.
While she expected to be "less and less" involved in the creative work of the business, she said she planned to continue designing prints and growing the homewear line which was launched in February in the United States.

(Reporting by Astrid Wendlandt and Victoria Bryan, Additional reporting by Silke Koltrowitz; Editing by Matthew Lewis)
© Thomson Reuters 2022 All rights reserved.