Fashion photography holds its festival in Cannes
For the 7th consecutive year, Cannes welcomes the International Festival of Fashion Photography. Two prizes will be awarded and an homage to the talent of Guy Bourdin will be given.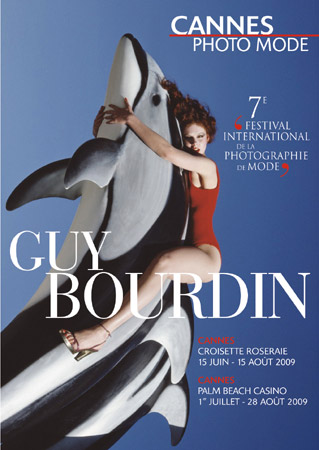 Festival poster
From the 15th of June, large photos will be installed in the town; on the Croisette up to the rose garden at the Canto port where the work of the guest of honour, Guy Bourdin, will be presented. Eighteen years after his death, he continues to influence generations of upcoming fashion photographers.
As for the festival, it will be held in the Palm Beach Casino where a selection of contemporary photography from 2009 will be displayed.
This year, 70 contenders have been drawn from across the entire world. To decide on the Grand Prize for Fashion Photography and the Prize for Young Talent in Fashion Photography the Festival has called on photographers and celebrities from the world of fashion and photography. Amongst them will be Laurence Benaïm (editor-in-chief of Stiletto), Peter Knapp (photographer and artistic director), Jean-Luc Monterosso (director of the European House of Photography in Paris) and Guy Boyer (editor-in-chief of "Connaissance des Arts").
The International Festival of Fashion Photography is free and will be going on in Cannes all summer.

(International Festival of Fashion Photography, 15 June – 15 August 2009, outside in Cannes)

By Jonathan Fulwell (Source: Céline Vautard)
Copyright © 2023 FashionNetwork.com All rights reserved.