Fashion designers aim to help Asian poor with eco-chic
HONG KONG, March 12, 2008 (AFP) - As Western fashion brands look to Asia to provide cheap skilled labour, two Hong Kong-based designers are bucking the trend.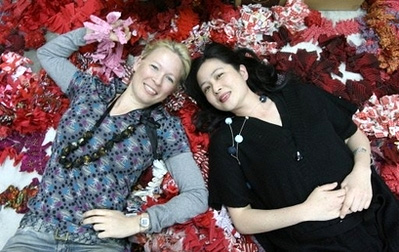 Cassandra Postema and Dong Shing Chiu - Photo : Mike Clarke/AFP
Cassandra Postema and Dong Shing Chiu are seeking out untrained workers in some of the poorest parts of the continent to help make their new range of ethically-produced, eco-friendly clothing using traditional methods.
Their staff include refugees, people in drug rehabilitation centres and young adults living in orphanages.
Many have been unemployed, suffer from long-term illness or live below the poverty line, but as long as they are willing to learn, they are given training to sew -- and a chance to improve their lives.
"We've never wanted to be another fashion company making clothes. They are so happy when they receive the money. It's rewarding to make people happy," says Postema, who has designed for Evisu, DKNY and Calvin Klein and also has her own fashion line.
Postema and Chiu work with local charities in Vietnam, Malaysia, Indonesia and the Philippines as well as Hong Kong to produce hip and stylish high-fashion products with a distinctively Asian look.
Both women have Asian backgrounds -- Chiu was born in Malaysia and spent part of her childhood there, while Postema, a Dutch native, was born in Rotterdam but grew up in Singapore, Yokohama, Vienna and Taipei because of her father's work with an multi-national corporation.
The set up Dialog in Hong Kong with the aim of helping people in the impoverished areas of Asia to make ends meet, hoping that to do so would not only boost their income but their self esteem as well.
Many of Dialog's products -- clothes, handbags, accessories and homewares -- feature a signature trim that derives from an old Malaysian technique using small folded squares of mixed fabrics.
The people they employ are trained to make these special trimmings -- using recycle materials -- with some of the products then going to the company's Chinese factories to be finished.
The pair, graduates of London's prestigious Central Saint Martins College, source discarded fabrics or surplus cloth from textile manufacturers and traders in Asia as well as from workers themselves.
"Some of them started to cut up their curtains, some cut up their blankets," laughs Postema. "We actually want the fabric to be indicative of the culture and tell different stories."
-- Eco-friendly label inspired by Asian tsunami --
Linda Wong runs a clothing workshop in Malaysia that has provided Dialog with workers. She gives the example of one woman with a six-month-old son and elderly mother to support, who has benefited from the work, having trained to sew.
"The income certainly makes a difference to her life. She was very happy that she could make money," Wong says.
On the outskirts of Jakarta, church minister Grace Chan says the work has helped a woman abandoned by her husband to look after their three children alone.
"Eti and her 18-year-old son wake up at 3am every day to go to the market and collect cracked eggs to sell. She makes only about 2-3 US dollars a day," Chan says. "Now she has learned to sew and earns herself extra money to buy more food to support her family."
Dialog's products are now sold in shops and on fair trade and fashion websites in Britain, Hong Kong, Japan, Singapore, France and Canada.
Although ethically-produced fashion remains a niche market, it has become increasingly popular.
In 2005, U2 singer Bono and his wife Ali Hewson launched their "socially conscious" fashion label Edun, which provides training to workers in factories where its clothes are produced, mainly in Africa.
Increasing numbers of retailers in Britain are stocking so-called fair trade fashion, according to the Fairtrade Foundation, which licenses products in the UK.
The foundation cites as an example People Tree, a pioneer of fair trade and ecological fashion based in Britain with operations in Japan, that last year doubled the wholesale and mail order sides of the business.
When Chiu, 39, and Postema, 37, set up Dialog in 2007, they had already cut their teeth in the ethical fashion world.
The December 2004 tsunami in Asia inspired the duo to design a range of T-shirts under the name "Hope Tees" to raise money for children affected by the disaster.
Postema and Chiu acknowledge it will be a while before they break even -- training workers with no experience in sewing has required considerable patience and financial outlay.
Before they opened their office in Hong Kong, they had even resorted to holding training sessions in McDonald's fast food outlets.
"The first group took a long time to train. Initially there were only about two people who were confident in what they were doing. The rest of them said, 'we can't do it'," Chiu says.
"We actually had to force them to learn. Now they all feel happy about it and they feel accomplished enough to do a complicated purse."
The work has helped rebuild the confidence of Hong Kong resident Tam Yin-fun, who had been a seamstress but had stopped working more than a decade ago to raise her son.
"After leaving it for so long, I couldn't find jobs because I'm getting older now," said the 42-year-old.
"Initially I didn't dare to do this but now this job has helped me to learn new skills and raise my self confidence."

by Stephanie Wong
Copyright © 2023 AFP. All rights reserved. All information displayed in this section (dispatches, photographs, logos) are protected by intellectual property rights owned by Agence France-Presse. As a consequence you may not copy, reproduce, modify, transmit, publish, display or in any way commercially exploit any of the contents of this section without the prior written consent of Agence France-Presses.