Fashion boss who hired Lindsay Lohan leaves Ungaro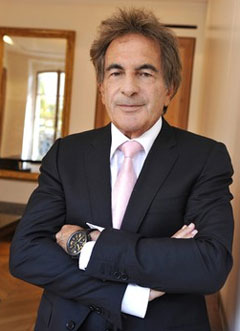 Mounir Moufarrige, former chief executive of Emanuel Ungaro
By Sophie Hardach and Astrid Wendlandt
PARIS (Reuters) - Mounir Moufarrige, president and chief executive of French fashion house Emanuel Ungaro, has resigned just over two months after a widely panned collection by American actress Lindsay Lohan.
Ungaro said in a statement on Wednesday 16 December that Moufarrige would continue to advise the company, which has gone through several stylists and two chief executives since couturier Emanuel Ungaro retired in 2004.
A spokeswoman for Ungaro said Moufarrige's departure had nothing to do with Lohan.
"Mounir Moufarrige has withdrawn from serving as president of Emanuel Ungaro in order to devote more time to his other businesses, namely, in the watch and jewellery industry," the statement said.
Moufarrige hired Lohan as artistic adviser for the spring/summer 2010 show in October. His stated aim was to give the ageing brand an "electric shock" that would jolt sales and pull in young, star-struck fashionistas.
Lohan had only weeks to put the collection together, advising chief designer Estrella Archs. The resulting buttocks-exposing mini-dresses and heart-shaped nipple pasties were not deemed a success by fashion critics.
While fans of Paris couture were aghast, lamenting the demise of a legendary fashion house, Moufarrige voiced optimism after the show and pointed to global interest in Lohan and her style.
The Ungaro spokeswoman said that Lohan would stay on in her role, as would Archs.
As president of Chloe, Moufarrige replaced Karl Lagerfeld with a then-25-year-old Stella McCartney, who would went on to become a success with critics as well as the buying public.
Emanuel Ungaro, founded in 1965, was acquired by American high-tech entrepreneur Asim Abdullah in 2005 from Italian house Ferragamo.
Moufarrige joined the company in 2006, having previously worked at Richemont.
Marie Fournier, who used to work at Dior in licensing and was recently involved in business development at Ungaro, was appointed general manager, the company said in a statement.
© Thomson Reuters 2023 All rights reserved.