Fairtrade gold brings ethical jewellery to Britain
Feb 9 - Leading British jewellers launched certified "Fairtrade" gold on Wednesday, in a bid to boost livelihoods of artisanal miners working in perilous conditions and ensure ethical standards and traceability.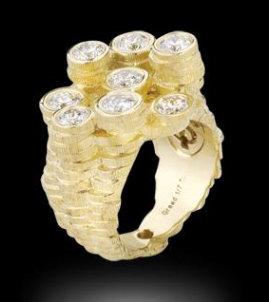 Stephen Webster's gold ring with diamonds
Celebrity jeweller Stephen Webster joined the push to sell gold jewellery made with the new Fairtrade label, part of a growing market in ethical goods ranging from tea to travel.
"I'm very passionate about people coming into our store ... and having the option of Fairtrade gold," Webster told a news conference, flanked by South American gold miners and senior Fairtrade executives. "I can't imagine them saying no."
"Fairtrade" gold pays a premium price to artisanal miners, who represent 90 percent of the gold mining labour force.
A group of 20 UK jewellers including Webster are supporting a dual "Fairtrade" and "Fairmined" label that aims to avoid child labour and use of poisons in mining processes, and guarantee full traceability of ethical gold from mine to finger.
"People are happy to pay a premium to know that that money will do some good," said Rachel Pullen, manager at Jon Dibben, a Surrey-based jewellery maker.
Just 400 kg of "Fairtrade" gold will be available in the UK market in the next 12 months.
According to the Fairtrade Foundation and the Alliance for Responsible Mining, "Fairtrade" gold is forecast to account for 5 percent of the global market in the next 15 years as the initiative is rolled out internationally.
Buyers wanted to know that miners received a fair price and that the environment was not harmed in the production process.
Webster, who has designed jewellery for pop stars Christina Aguilera and Madonna, said he plans to launch a bridal collection this year created entirely out of Fairtrade gold.
Gold prices have doubled since the height of the global financial crisis in late 2008, but artisanal miners have not cashed in, said Harriet Lamb, executive director of the Fairtrade Foundation.
"Sadly it is not the mining community who reap the benefit of this 21st-century gold rush," she said.
Juana Pena Endara of Bolivia's Cotapata Mining Cooperative, one of two groups that have received Fairtrade and Fairmined certification, said the price premium she will receive could be used to buy new machinery and improve production processes.
"Mining is very difficult and I've had to make a lot of sacrifices," Endara said. "I feel very proud to be in this country where people value the gold that we produce."
By Anna Yukhananov
(Editing by David Brough and William Hardy)

© Thomson Reuters 2023 All rights reserved.