Everest Sherpas swap danger for luxury watchmaking
KATHMANDU - In a modern, airy workshop located in a fashionable Kathmandu shopping hub frequented by Nepal's rich and famous, two skilled craftsmen assemble some of the world's most exclusive luxury watches.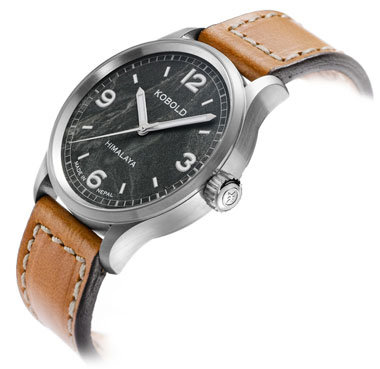 Kobold's Himalaya Everest Edition / Photo: Kobold
For Namgel and Thundu Sherpa, the sedate, intricate world of precision watchmaking is about as far removed as possible from their previous lives as Himalayan guides working in deeply hostile, often life-threatening conditions.
Their unlikely career change followed a stint as guides for British adventurer Sir Ranulph Fiennes and Michael Kobold, founder of the US-based Kobold watch company who scaled Everest with his wife Anita in 2010.
"Namgel saved my life twice," Kobold told AFP, recounting how the sherpa had corrected a critical problem with his oxygen supply in the "death zone" as they neared the Everest summit.
On the descent, Namgel again intervened to prevent a summit-bound climber unhooking Kobold's carabiner from a safety line as they passed on a narrow ledge above a sheer 10,000 foot drop.
An even more dire situation arose when they descended to Camp Two and Kobold's wife collapsed and stopped breathing.
"A doctor declared her dead," Kobold said.
"But with the help of the doctor and Namgel and Thundu, we managed to get her back to life a few minutes later. She is perfectly fine today thanks to their quick response."
Keen to translate his gratitude into practical help, Kobold decided to act on an idea first suggested by Fiennes of providing Namgel and Thundu with a safer career.
In 2008, Fiennes had observed the two sherpas watching Kobold, who had brought his tools and parts, assemble a watch at Everest Base Camp.
"Their inquisitive nature and excitement over a mechanical watch were very much on display," Fiennes told AFP. "This is when the thought occurred to me that maybe Mike could teach them how to make watches."
Kobold took Namgel and Thundu to the United States, housed them for a year with his family in Pittsburgh and trained them at a cost of more than $300,000 to make a "Made in Nepal" version of his high-end timepieces.
A limited edition of just 25 of the new Nepal range will contain elements rock collected from the Everest summit and retail at $16,500.
The Sherpas recall a "challenging" year in the US, when they missed their families and had to learn enough information for a two-year course in just 10 months.
"Learning to make watches in the US was very difficult at first because with a mechanical watch like this everything has to be perfect," said Namgel, 27.
"But our job as sherpas was very hard. We had to carry a lot of things and we didn't use oxygen until 8,000 metres. People would say we had big lungs and a big heart. So compared to that watchmaking for us is not so difficult."
Namgel and Thundu, 38, have scaled Everest seven and nine times respectively.
But their vast experience did little to soothe their families' concerns each time they embarked on a new expedition.
"I have one daughter and Thundu has two sons and our families were very worried about our job because it was so dangerous," Namgel said.
"We feel lucky because we don't have to climb anymore. I love climbing but I'm glad my family don't have to worry anymore."
The parts for the Sherpa's watches will be shipped from Kobold's business in the US, but assembled from scratch in Nepal.
Namgel and Thundu will use the Kobold brand but the enterprise will be entirely theirs -- they aren't being charged franchising fees and will keep all profits.
Kobold estimates they will have to sell just two watches a month to earn a respectable living with cash left over to gradually grow the business to a point where they will be able to manufacture their own parts in Nepal.
The 33-year-old believes the high-pressure, high-risk lives of Himalayan guides has provided Namgel and Thundu with advantages in the their new career.
"They are superior watchmakers in the sense that... their hands don't tremble but are perfectly steady.
"This is an obvious and considerable advantage when assembling mechanical watches that consist of hundreds of tiny little parts."
Copyright © 2023 AFP. All rights reserved. All information displayed in this section (dispatches, photographs, logos) are protected by intellectual property rights owned by Agence France-Presse. As a consequence you may not copy, reproduce, modify, transmit, publish, display or in any way commercially exploit any of the contents of this section without the prior written consent of Agence France-Presses.