Europe's retailers brace for tough 2010
By Mark Potter
LONDON (Reuters) - Europe's retailers are braced for a tough 2010 amid signs a tentative economic recovery has yet to boost consumer spending and fears high unemployment and low wage growth will dampen confidence in the months ahead.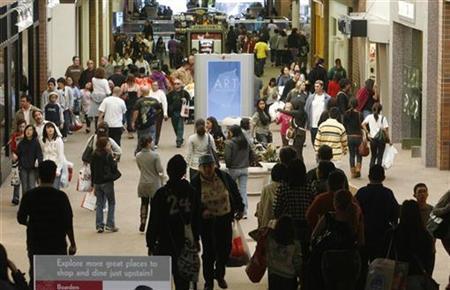 Germany, Europe's biggest economy, posted a surprise fall in November retail sales on Thursday 7 January, knocking shares in its largest retailer, Metro AG, down as much as 5 percent. The news was brighter from Britain, where grocer J Sainsbury and clothing chains New Look and JD Sports Fashion added to recent signs of healthy spending over Christmas.
But store groups there are worried shoppers will soon be hit by higher taxes to help cut government borrowing.
"We don't see any improvement in the economic backdrop," said Sainsbury's chief executive, Justin King, even as Britain's third-biggest supermarket chain beat forecasts with a 4.2 percent rise in underlying third-quarter sales.
Signs of recovery from the worst recession since the Second World War are building across Europe.
On Wednesday 6 January, a survey showed the euro zone's dominant services sector grew at its fastest pace for over two year's in December, while data on Thursday 7 January showed economic sentiment improved more than expected.
But euro zone retail sales figures for November defied market expectations for a rise, falling 1.2 percent on the month and 4.0 percent year-on-year, led by weakness in Germany as well as falls in France and Spain.
"December's rise in ... euro-zone economic sentiment is encouraging but November's fall in retail sales confirms that the recovery has yet to reach the household sector," said Jennifer McKeown, European economist at Capital Economics.
The DJ Stoxx European Retail Index rallied around 35 percent in 2009, making it one of the best performing sectors, amid hopes of a consumer recovery.
At 11:20 a.m. it was down 0.8 percent, weaker than a 0.4 percent decline in the benchmark FTSEurofirst 300.
A flurry of December sales updates from U.S. retailers on Thursday 7 January will give some indication of whether a recovery in spending has been any stronger on the other side of the Atlantic.
HOPES NOT HIGH
Analysts are hoping the passing of a first major passage of tax cuts by German Chancellor Angela Merkel's new coalition last month will lift spending in the months ahead.
But optimism is not high.
"Despite tax relief, retail sales are not likely to grow either in 2010, due to rising unemployment and falling real income," said Juergen Michels from Citigroup.
"The outlook for private consumption is rather dark."
Home improvements retailer Praktiker highlighted the challenges being faced by German retailers, reporting a 10.3 percent drop in fourth-quarter revenues due in part to weakness in eastern European markets and currencies.
Shares in Metro, which runs department stores, supermarkets, cash-and-carry stores and electrical goods chains, dropped on market talk it was guiding down analysts' earnings expectations ahead of sales data on Tuesday 5 January.
Metro declined to comment.
In Britain, Sainsbury continued the trend of retailers reporting healthy Christmas sales, helped by a jump in demand for traditional festive foods like turkey and non-food ranges like electrical goods ahead of a rise in VAT sales tax on January
Sainsbury's shares climbed as much as 3.1 percent to 328 pence.
But analysts warned British groups may be enjoying a "purple patch" of healthy demand before spending is cut as taxes and, potentially, unemployment rise.
"Christmas was merry, but trading updates do not change 2010 headwinds," said Bernstein analyst Luca Solca.
A survey on Tuesday 5 January showed British consumer confidence suffered its sharpest fall in over a year in December.
This caution has been shared by British retailers including fashion chain Next and department stores group John Lewis this week, even as they beat sales forecasts.
Bellwether British chain Marks & Spencer forecast on Tuesday 5 January that UK retail sales could be flat this year.
(With additional reporting by Reuters bureaux across Europe; Editing by Greg Mahlich)
© Thomson Reuters 2023 All rights reserved.