Erwin Wurm captures the image of the Hermès man
Hermès placed itself alongside contemporary art once again with the continued presentation of the work of Erwin Wurm. This time it is at the house's boutique in Bordeaux, at 2 Place Gambetta, which will be hosting the curious sculptures from the artist from the 17th of September to the 3rd of October.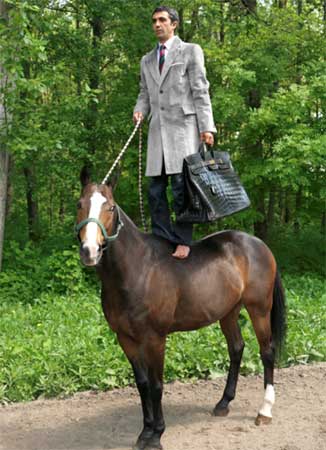 The anarchist by Erwin Wurm
Erwin Wurm is known for his singular approach to sculpture; the Austrian artist does not use stone or clay, instead simply setting up a human being as an object. By placing the person cum sculpture in an everyday environment, the portrait that is captured can offer a scathing take on contemporary society.
Unusual moments, such as perching on a broom or balancing, laid-out on oranges, transform the subjects into ephemeral sculptures. Erwin Wurm's work has caught the eye of Véronique Nichanian, artistic director of men's fashion at Hermès and therefore in the Bordeaux based Hermès boutique will be seen pieces entitled: the anarchist, the psychoanalyst, the hunter, the judge, the traveler, the mathematician and the purist.
These works will be clad in menswear from the Hermès collection.
Since August 2008, this series of work has been presented in Frankfurt, Paris, London, Tokyo, Miami, Florence, Dalian, Shanghai and Beijing.
By Jonathan Fulwell (Source: Sarah Ahssen)
Copyright © 2023 FashionNetwork.com All rights reserved.