Egypt textile firm says reaches deal with strikers
Feb 17 - Arafa Holding, Egypt's biggest garment exporter, said on Thursday it had reached a deal with striking workers and factory operations would resume on Saturday.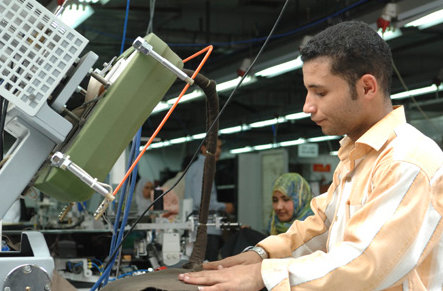 Tailoring at Arafa Holding
Arafa had said on Tuesday it closed its factories in Tenth of Ramadan City until Thursday due to labour strikes. Many Egyptian workers, emboldened by anti-government protests that toppled President Hosni Mubarak on Friday, have gone on strike demanding better wages and conditions.
"Arafa Holding announces that, following extended meetings yesterday and today with representatives from the striking labour force, satisfactory agreement has been reached on all issues discussed," it said in a statement.
It said Wednesday Feb 16 and Thursday Feb. 17 would be granted as a fully paid holiday with factory operations to resume on Saturday Feb. 19.
"In line with the best corporate governance and transparency practices, we will keep our stakeholders updated with any further major developments," the firm said in a statement.
(Writing by Edmund Blair; Editing by Mike Nesbit)
© Thomson Reuters 2021 All rights reserved.