Economy expected to shrink slower, retail sales up
LONDON (Reuters) - The economy probably shrank for the fifth quarter running in the three months to June but the pace of decline should have eased as the worst of the recession passes.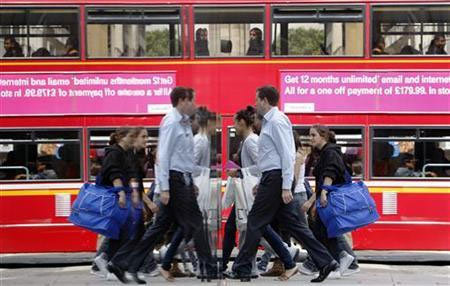 Pedestrians are reflected in a building as they walk along Oxford Street in London - Photo: REUTERS/Luke MacGregor
Official figures due on Friday 24 July at 9:30 a.m. are expected to show GDP fell by 0.3 percent in the second quarter of 2009, according to a median forecast in a Reuters poll.
That would follow a whopping 2.4 percent drop in the first quarter and a 1.8 percent contraction at the end of 2008 and take the total decline so far to 5.2 percent -- more than double the peak-to-trough plunge in the 1990s recession.
Bank Deputy Governor Charles Bean said this week he expected the economy shrank in Q2 but that growth should resume in the second half of the year.
Most analysts agree.
"Q2 should be the point where the figures begin to improve, given stronger surveys and other evidence suggesting demand starting to flatten out and a more modest pace of destocking," said Philip Shaw, chief economist at Investec.
"We are predicting GDP will show a recovery in Q3."
Retail sales volumes shot up by a much-faster-than-expected 1.2 percent in June, data showed on Thursday 23 July, raising the possibility of Q2 GDP being even stronger than the consensus forecast.
But policymakers remain cautious about declaring victory yet. Speaking in parliament this week, Prime Minister Gordon Brown said there was no room for complacency. He desperately needs a real turnaround before an election expected in May 2010.
And the jury is still out on whether the Bank will pump any more cash into the economy beyond the 125 billion pounds already announced because any recovery is likely to be sluggish.
Policymakers are concerned that any signs of improvement may just be a result of firms restocking after inventories were run down sharply in the preceding months.
They are also say credit is still scarce as banks repair balance sheets after the worst financial crisis in memory.
(Reporting by Sumeet Desai, editing by Mike Peacock)
© Thomson Reuters 2023 All rights reserved.