EBay holiday outlook disappoints, shares down
By Alexandria Sage

SAN FRANCISCO (Reuters) - EBay Inc (EBAY.O) forecast results for the fourth quarter at the low end of Wall Street estimates, disappointing investors who were hoping for a substantial turnaround for the holidays, and its shares down 5 percent.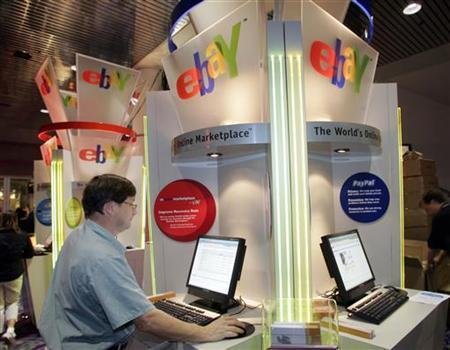 But the global e-commerce and payments company's fourth-quarter outlook only included a partial contribution from Skype, the fast-growing Web telephone unit it plans to sell in coming weeks. Analysts said that might have made its fourth-quarter forecast appear lackluster to investors.
Investors had warmed to the idea of a comeback by eBay, which is overhauling its main marketplaces division. Since January, the company's stock had shot up 79 percent after years of languishing.
But its forecast on Wednesday 21 October put a dent in that confidence, even though executives and analysts highlighted improvements such as more fixed price sales, which helped increase volume on eBay.
"The economy we see stable, and we're cautiously optimistic about consumer spending going into the holiday," said Chief Executive John Donahoe. "What is more important from our standpoint is we actually see some progress on our turnaround metrics."
For the fourth quarter, eBay sees adjusted earnings to range between 38 cents to 40 cents per share. Wall Street had been expecting 40 cents per share. It expects fourth-quarter revenues of between $2.2 billion and $2.3 billion. Wall Street's estimate is for $2.57 billion, according to Thomson Reuters I/B/E/S.
However, executives said that if Skype's full contribution were to be factored in, on an apples-to-apples basis, its holiday quarter projection called for revenue growth of 11 to 16 percent.
From the year-ago revenue figure, that translates roughly into revenue of $2.35 billion to $2.45 billion -- still short of Wall Street's average estimate.
RBC Capital's Stephen Ju estimates Skype yields $200 million of revenue a quarter.
"EBay has a long history of providing very conservative guidance and then breaking it, but people were hoping for evidence of much more recovery," said Bernstein Research's Jeffrey Lindsay.
WAGING A WAR
Skype aside, EBay faces a fierce price war among retailers on- and off-line during the holidays. Wal-Mart Stores Inc (WMT.N) pledged on Wednesday 21 October "hundreds of millions of dollars" in price cuts each week, pressuring shares in its rivals from Amazon.com Inc (AMZN.O) to Safeway Inc (SWY.N).
But Donahoe argued the company's decision to focus on the secondary market, with sellers offering out-of-season goods at a discount, would help differentiate it this holiday.
Executives, as well as analysts, pointed to a 7 percent increase in gross merchandise volume -- measuring the dollar amount of all goods sold on eBay -- that was stronger than expected.
While the overall marketplaces unit saw a one percent revenue decline in the quarter, that was a vast improvement over the prior quarter, when it fell 14 percent.
EBay said marketplaces saw strong growth in its international business, which is bigger than its domestic business, especially in Britain and Germany.
Analysts also cited strong fixed-price sales growth. As part of efforts to improve the selling and buying experience on eBay, the company has been concentrating on fixed-price sales and moving away from auctions.
"If you look at the underlying metrics -- an acceleration in the number of sales both domestic and international -- that is what matters," said Ju, who advised investors to buy "on the dip."
EBay, which also owns online payments service PayPal, said third-quarter net profit fell to $350 million, or 27 cents per share, from $492 million, or 38 cents per share, a year earlier.
On an adjusted basis, earnings were 38 cents per share, a penny above the average analyst forecast, according to Thomson Reuters I/B/E/S.
Revenue was $2.2 billion, the San Jose, California-based company said, compared with the Wall Street view of $2.14 billion. They rose 15 percent at PayPal and 29 percent at Skype.
Last month, a group led by top Internet financiers agreed to buy a 65 percent stake in Skype for $1.9 billion. Skype's founders are suing eBay and the investor group.
EBay shares fell to $23.90 after-hours from its close of
$25.03.
(Additional reporting by David Lawsky and Lisa Baertlein; editing by Michele Gershberg, Leslie Gevirtz and Carol Bishopric)
© Thomson Reuters 2023 All rights reserved.