Dubai plans to securitise airport duty free revenues
DUBAI - Dubai plans to raise funds by selling debt based on future revenues at Dubai Duty Free, one of the world's largest airport retailers, according to three sources.
The Gulf Arab emirate's Department of Finance is working in tandem with the Investment Corporation of Dubai (ICD) which owns the retail operator, said the sources who spoke on condition of anonymity as the matter has not been made public yet.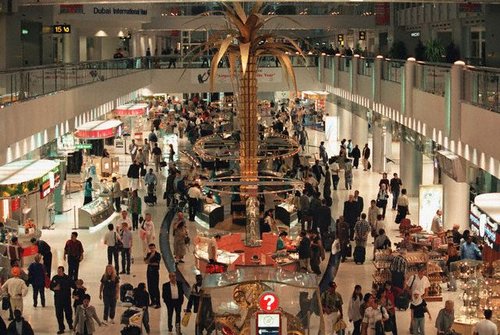 Dubai: airport and duty free shopping area / Photo: Corbis

Dubai is planning to raise at least $500 million from the securitisation of receipts, one banking source said, adding requests for proposals (RFP) for the transaction was sent to banks and a final mandate was yet to be announced. It was not known if the emirate has appointed any banks to advise on the deal.
"There is an exercise going on within Department of Finance with ICD to look to see whether there could be a securitisation of Dubai Duty Free funding," another source, familiar with the matter, told Reuters.
Dubai government officials were not immediately available for comment.
Sales at Dubai Duty Free, which covers a sprawling 18,000 square metres of retail space at Dubai International Airport, rose 15.7 percent to $1.46 billion in 2011.
The operator, which sponsors high-profile sports events such as the Dubai tennis championship and is famous for lavish giveaways, has seen business boom on the back of sales of branded perfumes, watches and designer clothes.
Liquor, including some of the world's most expensive brands, also boosts sales as travellers and expatriates stock up in a country that largely restricts alcohol sales outside of hotels and restaurants.
Duty Free is expected to add an additional 8,000 square metres by the end of 2012.
The move is the latest by Dubai, which is slowly emerging from a crippling debt crisis, to tap unique financing means partly to overcome a dearth in European funding.
In July, the emirate closed a $800 million financing deal with lenders based on securitising road toll receipts, known as Salik.
The loan received a strong response from lenders at the time. Citigroup , Commercial Bank of Dubai, Emirates NBD and Dubai Islamic Bank were the mandated lead arrangers and book-runners for that financing.
"An RFP for the proposal has gone out from ICD and Department of Finance," said a banker. "There was enough demand for the Salik sale last year and there is enough liquidity for such transactions."
Securitisation is a process of issuing new securities backed by loans, mortgages, or other assets like future income streams.
Dubai is slowly recovering from the impact of the 2008 global financial crisis which saw property prices crash more than 50 percent in the emirate and forced it to restructure $25 billion in debt at flagship conglomerate Dubai World. Other restructurings at state-linked entities continue.
But the emirate is seeing an economic revival in trade and tourism, partly due to its safe-haven status amid the Arab Spring unrest.
Passenger traffic at Dubai International Airport jumped 14 percent from a year earlier in January, buoyed by holiday season demand.

(Additional reporting by David French and Dinesh Nair; Editing by Shankar Sitaraman)
© Thomson Reuters 2022 All rights reserved.